1 Person Forklift Safety Cage Contact WP Series
Safety cage for fitting to a forklift truck. This is perfect for raising 1 person to required height in a safe way. More
working at height safety options
available
Brand::

Contact

Product Code:

Contact WP Series 1 Person Forklift Safety Cage

Availability:

In Stock
Call 01384 76961 for price.
About the 1 Person Forklift Safety Cage Contact WP Series
The WP series from Contact include 3 different models of safety cages for forklift truck mounting and is PM28 compliant.
The WP-SP incorporates a lift up bar for easy access
The WP-Economy has through bars for access that you climb through
The WP-SPG incorporates an inward opening front gate with automatic locking for the easiest access.
Offering a safe and convenient way for occasional tasks that need to be carried out at heights, such as maintenance, inspections and even bulb replacement in high buildings.
All models incorporate:
safety locking system to the fork heels
kick rail on all sides to prevent losing tools
perforated mesh barrier between forklift moving parts for extra safety
anti-slip floor tread with drainage holes
full length fork pockets
harness anchorage points.
More Safety Cages
We have a number of other safety cage models available including a 2 person design for a forklift truck. A raised height model a folding cage and a couple of crane slung safety cages for multiple people. Browse the full range to see what each model has to offer to find your ideal safety platform. We can also supply numerous items of height safety equipment including harnesses, lanyards, connectors, kits and fall arrestors should you need them.
Model

Weight (KG)

C of G

No of people

Capacity (KG)

A mm

B mm

C mm

D mm

E mm

 

WP-SP

74

300mm

1

300

800

800

794

1860

1070

WP-ECONOMY

90

425mm

1

500

1000

1000

794

1860

1070

WP-SPG

 

99

427mm

1

300

1000

1000

794

1860

1070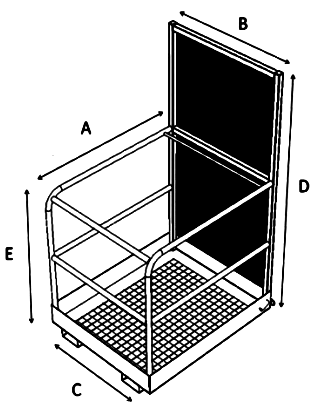 Model

Means of entry

Length x width (mm)

Max fork size mm

Fork spread mm

 

WP-SP

Lift up bar

800x800

150x50

794

WP-ECONOMY

Lift up bar

1000x1000

150x50

794

WP-SPG

 

Front gate

 

1000x1000

150x50

794