2000kg Stainless steel Pallet Truck DBCS20
Fashioned from
corrosion
resistant stainless steel and built to accommodate loads weighing up to 2 tonnes, the DBCS20 is a
pallet truck
with plenty to offer in terms of practicality and durability.
Call 01384 76961 for price.
Features of the 2000kg Stainless steel Pallet Truck DBCS20
The DBCS20 pallet truck has 540 x 1150mm forks and is also available with wider fork sizes of 685 x 1220mm. Its main features and specifications of note include:
· High quality total stainless steel construction
· Nylon rollers, both front and rear are white
· Ideal for 'clean' environments
· also available with wider forks; 685 x 1220mm
Benefits
As touched upon earlier, there are a few reasons to choose the DBCS20 pallet truck over equivalent models. The longevity that is provided by the stainless steel design is obviously advantageous from a value perspective but also has a positive impact in terms of hygiene. It makes it viable to use this pallet truck in clean environments, where other models which feature different materials and finishes would not be suitable.
It is not just moisture that does not pose a threat to this stainless steel pallet truck; other environmental hazards, such as industrial chemicals, will be less likely to compromise its surface.
Furthermore the dimensions of this truck mean that accommodating a standard Euro Pallet will be easy.
Our material handling equipment range
Lifting Gear Direct is not just a stockist of high quality pallet trucks like the DBCS20; we also supply material handling equipment, lifting equipment and even height safety kit to customers of all kinds across a multitude of industries.
Whether you need accessories for your existing setup or you want to order a custom gantry system, our team can make and supply almost anything.
Need help?
Let us lend a hand when you are ordering pallet trucks or any other equipment by calling 01384 76961 or visiting our contact page.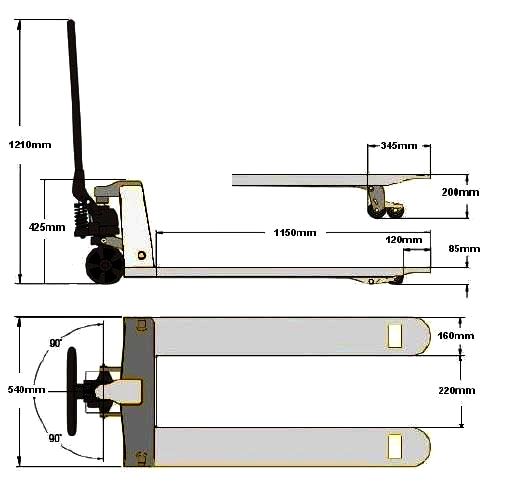 Model

 

 

DBCS

Capacity

 

KG

2000

Min fork height

H

mm

85

Max fork height

H1

mm

200

Steering wheel size

 

mm

?200x50

Load roller single

 

mm

?82x99

Load roller tandem

 

mm

?82x70

Size of forks

 

ExS

mm

160x60

Width overall forks

B

mm

540/685

Fork length

L

mm

1150/1220

Net weight

 

 

KG

82