Big Bag Lifter - Yale TTB
Lifting big bags that are also heavy can be a tricky challenge, but with the TTB big bag lifter from Yale. This spreader beam can be easily attached to a hoisting device or crane. Check out our other types of load moving equipment and full range of lifting equipment for all your lifting operational needs.
Brand::

YALE

Product Code:

Big Bag Lifter

Availability:

In Stock
Call 01384 76961 for price.
About the Yale TTB Big Bag Lifter
The TTB big bag lifter is essentially a spreader beam which is designed for fitting to a hoist or crane to lift awkward big bags. There are 4 models in this range with top working load limits standing at 2000kg.
The fixed framework consists of 4 attachment points arranged in a cross design. The attachment points are welded on hooks and come complete with safety latches to ensure the attached load can't come free unintentionally. These 4 points enables all four corners of a big bag to be attached safely.
At the top of the frame there is a large suspension eye for easy fitting to a hoists bottom hook.
When using this type of lifting equipment you must keep closely in line with the centre of gravity for stability and safety. The spreader beam should not tilt more than 6 degrees from the centre point.
You should also ensure that the load does not swing whilst in motion nor come into contact with other objects as this can cause instability.
Prior to each use you should check over the lifter to ascertain whether it is fit for purpose. Check for cracked welds, broken safety latches and/or bent attachment points. You will also need to have it thoroughly inspected each year by a competent person to ensure it continues to be safe for use.

Other Load Moving Solutions
We have a great range of load moving equipment to aid in lifting and moving troublesome loads. From drum lifting devices to pallet trucks, load moving skates to scissor lift tables, load moving has never been so easy.
Lifting Gear Direct also supply a vast collection of fork lift truck attachments to facilitate easier handling of certain loads whilst making the most out of your fork lift truck.
Obviously as a lifting equipment company we supply all types of hoisting equipment, beam attachments, shackles, slings and more, we even manufacture our own bespoke Jib cranes and mobile lifting gantries should you require them.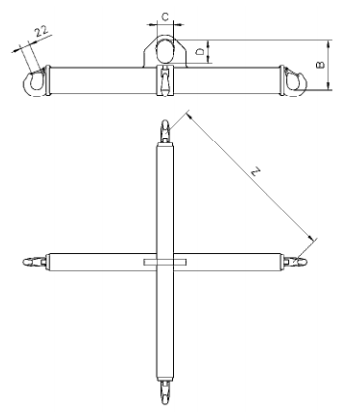 | | | | | |
| --- | --- | --- | --- | --- |
| MODEL | TTB 1,0 1090 - 1090 | TTB 1,0 1320 - 1320 | TTB 2,0 1090 - 1090 | TTB 2,0 1320 - 1320 |
| B, MM | 210 | 210 | 240 | 240 |
| C, MM | 60 | 60 | 75 | 75 |
| D, MM | 110 | 110 | 135 | 135 |
| | | | |
| --- | --- | --- | --- |
| Model | Capacity | Working width Z | Weight |
| | kg | mm | kg |
| TTB 1,0 1090 - 1090 | 1000 | 750 - 800 | 27 |
| TTB 1,0 1320 - 1320 | 1000 | 900 - 970 | 33 |
| TTB 2,0 1090 - 1090 | 2000 | 750 - 800 | 42 |
| TTB 2,0 1320 - 1320 | 2000 | 900 - 970 | 44 |