Camlok TSD Standard Screw Clamp
The TSD is a standard screw clamp with 1 fixed lifting point. Perfect for positioning steel together with a lever hoist.
Brand::

Camlock

Product Code:

Camlok TSD

Availability:

In Stock
Call 01384 76961 for price.
About the Camlok TSD Standard Screw Clamp
Designed to be used in conjunction with a lever hoist and ideal for aligning steel structures or fabrications.The easy to use spindle enables the insertion of angled plate with jaw capacities ranging from 35mm up to 40mm depending on the model chosen.
The 4 models available offer safe working loads of 1500, 3000, 5000 & 7500kg.
PLEASE NOTE:
The plate surface must not exceed a hardness level of HRC 30/Brinnel 300.
Model

TSD 1500

TSD 3000

TSD 5000

TSD 7500

A mm

191

235

275

295

ØB mm

35

46

55

65

C mm

24

34

40

50

D mm

16

17

18

22

E mm

60

67

85

92

F mm

105

120

150

162

G mm

 

50

60

75

80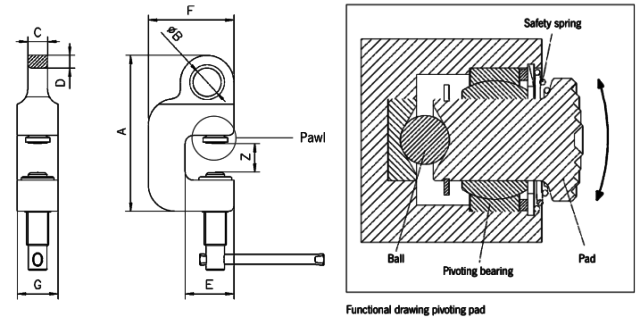 Model

Capacity (KG)

Jaw capacity Z (mm)

Weight (KG)

 

TSD 1500

1500

0-35

4.8

TSD 3000

3000

0-35

8.1

TSD 5000

5000

0-40

14.5

TSD 7500

7500

0-40

18.1