Dynafor LLX1 Load Cell Indicator
The Dynafor LLX1 load cell indicator has a measuring range up to 20 tonnes and has the option of a handheld wireless display unit.
Brand::

Dynafor

Product Code:

Dynafor LLX1

Availability:

In Stock
Call 01384 76961 for price.
About the Dynafor LLX1 Load Cell Indicator
Offering versatile functionality and a good degree of durability, the LLX1 is a load cell from well-known manufacturer Dynafor that is just one of a number of load and force calculation products we stock here at Lifting Gear Direct.
KEY FEATURES:
· Displays kg, daN, kN, T & lbs.
· Functions include; tare & peak loads + advanced functions - filter effects, shutdown function & adjustable threshold.
· CE & CEM compliant
· IP65, can be used in adverse weather conditions
· Built-in radio transmitter (wireless display may be added any time)
· LCD backlit display
· Wireless display has 2.4GHz Zigbee 40 metres range.
· 3 x AA batteries; rechargeable ones can be used.
· supplied in box with instructions, CE cert and batteries (not hooks & shackles - available separately)
Deeper specification discussion
You may have noticed from the table of technical data below that the LLX1 is not a single load cell, but actually a range which includes models with different load capacities. The advantage of this is that you can of course choose the model that fits your needs, rather than opting for a load cell that is either far too large, or far too light-duty.
The smallest LLX1 model we supply has a 500kg maximum capacity, with its stable mates offering between 1 and 20 tonnes of capacity to attract a broader array of prospective buyers.
All models offer a safety coefficient of at least 4, as well as lots of other protective perks. The usable temperature range is from -20 to 40 degrees Celsius and the IP65 rating that the LLX1 achieves means that debris and moisture will pose little threat to it.
Lots of other load cells to consider
Should you find that the LLX1 is not quite perfect for your load calculation requirements, LGD can supply a multitude of other products with different capacities and technical perks to consider.
Whether you choose crane scales from Yale or products from Red Rooster or Straightpoint, there should be something on our site to grab your attention.
Find out more from our experts
We want to make sure that you can order lifting equipment with confidence, so if you have any questions or are ready to get a quote, please call us on 01384 76961 or use our contact page to email us at your convenience.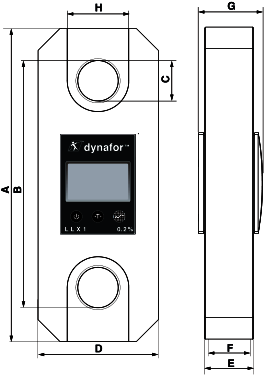 Model

LLX1 0.5t

LLX1 1t

LLX1 2t

LLX1 3.2t

LLX1 5t

LLX1 6.3t

LLX1 12.5t

LLX1 20t

Dimensions (mm)

A

220

220

233

243

275

343

343

371

B

196

196

207

207

217

257

257

269

C

14

14

22

22

28

42

42

54

D

90

90

100

100

115

125

125

134

E

32

32

32

32

32

51

51

67

F

16

16

24

24

29

48

48

64

G

47.5

47.5

47.5

47.5

47.5

66.5

66.5

67

H

45

45

50

50

57

62

62

66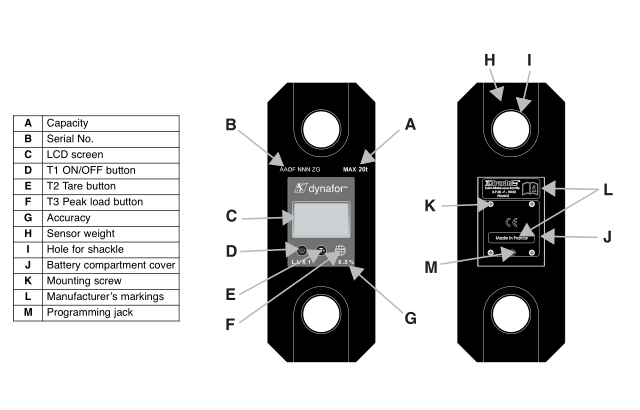 Model

LLX1 0.5t

LLX1 1t

LLX1 2t

LLX1 3.2t

LLX1 5t

LLX1 6.3t

LLX1 12.5t

LLX1 20t

Maximum capacity

 

t

0.5

1

2

3.2

5

6.3

12.5

20

Test load

 

t

0.75

1.5

3

4.8

7.5

9.6

18.75

30

Safety coefficient

 

Minimum 4

Precision

 

 

0.2% FS

daN

1

2

4

6

10

13

25

40

Increment

 

daN

0.2

0.5

1

1

2

2

5

10

Max display

 

daN

110% maximum capacity

Number height

 

mm

18

Autonomy

 

450h (batteries 1.5 V AA)

Weight

 

KG

1.1

1.1

1.3

1.5

2.3

2.3

4.3

7

IP Protection

 

IP 65

Usafe

 

From -20

° to 40°C

Sensitivity to T

°

 

0.05% per 10

°C

Sensor material

 

 

Aluminium

Radio option

 

RF technology: Zigbee 2.4 GHz

Range: 40m in free field, see details in operation manual