Eclipse Ultralift LM Lifting Magnet
The Eclipse Ultralift LM is an efficient, cost effective and
safe
magnet lifter capable of lifting both flat and cylindrical steel.
Brand::

Eclipse

Product Code:

Eclipse Ultralift LM Lifting Magnet

Availability:

In Stock
Call 01384 76961 for price.
Perks of the Eclipse Ultralift LM
The use of a neodymium magnetic material provides the highest power to weight ratio. This is important from the perspective of practicality, allowing operators to work quickly and efficiently when it is combined with appropriate lifting equipment. It also has advantages in terms of reducing fatigue and avoiding injury through repeated use.
It also features a safety button to lock the handle/lever in place to prevent accidental release. This is obviously important for magnetic lifting gear, since the application of magnetic force is all that stands between you and a dropped load. Conversely traditional hoists will usually make use of chains and hooks to keep everything stable and in one piece.
Why choose a Permanent Lifting Magnet?
The Ultralift LM from Eclipse is manually operated, requiring no power, and suitable for general purposes. This sets it apart from battery-powered magnet lifters, which have to be charged up in order to operate.
A simple flick of the handle on this model is all that is needed to activate the pulling power of the built in magnet. Like our other permanent lifting magnets, it will require little maintenance over time and can be a resilient, reliable addition to your arsenal of load-handling equipment.
Ultralift LM Model Options
There are actually a number of different models which fall into this range from Eclipse, each of which offers different abilities to go along with its size. The smallest of the bunch tips the scales at just 4.5 kilos and can manage material measuring up to 1.5 metres in length and 125kg in weight. This falls to 50kg when it is being used in conjunction with cylindrical objects.
The largest has a total weight of 79kg, with a larger magnetised surface helping it to cope with sheets of metal of up to three metres long. It has a SWL of two tonnes for flat loads, along with an 800kg limit for round loads. All you need to do is pick the model that matches your needs and you will be on the right track.
Ask us about Eclipse Products
We want to be as transparent and approachable as possible when it comes to the products and services we offer, so if you are confused about any aspect of the Ultralift LM lifting magnet, please contact our team. This can be done when you call 01384 76961 or enter your details on our contact page. Your questions will be answered and quotes can be provided in a jiffy.
| | | | | | | | | |
| --- | --- | --- | --- | --- | --- | --- | --- | --- |
| Product Number | A (mm) | B (mm) | C (mm) | D (mm) | E (mm) | F (mm) | G (mm) | H (mm) |
| LM0125 | 110 | 150 | 76 | 62 | 54 | 150 | 30 | 27 |
| LM0250 | 165 | 210 | 90 | 72 | 76 | 200 | 45 | 40 |
| LM0500 | 225 | 281 | 106 | 88 | 103 | 243 | 53 | 48 |
| LM1000 | 325 | 391 | 136 | 103 | 113 | 365 | 59 | 52 |
| LM2000 | 400 | 483 | 186 | 132 | 170 | 526 | 88 | 79 |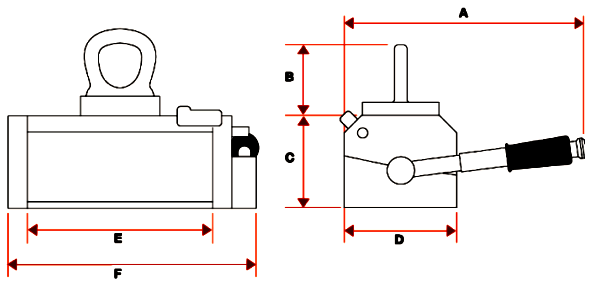 | | | | | | | |
| --- | --- | --- | --- | --- | --- | --- |
| Product Number | Material Length Max (mm) | Flat Section SWL (kg) | Flat Section Thickness Min (mm) | Round Section Dia. Max (mm) | Round Section SWL (kg) | Unit Weight (kg) |
| LM0125 | 1500 | 125 | 20 | 250 | 50 | 4.5 |
| LM0250 | 1500 | 250 | 25 | 300 | 100 | 8.5 |
| LM0500 | 2000 | 500 | 30 | 400 | 200 | 17.5 |
| LM1000 | 3000 | 1000 | 45 | 450 | 400 | 36.5 |
| LM2000 | 3000 | 2000 | 70 | 600 | 800 | 79 |