Battery Activated Magnet Lifter - Eclipse
This Lifting Magnet from Eclipse Magnetics is battery activated, i.e. the battery is only required to activate the magnet then the permanent magnetic feature takes over, and so needs no power supply to maintain a lift. This makes it a cost-effective, convenient option which also provides long-lasting performance potential in a compact package.
Call 01384 76961 for price.
Main Selling Points of the Eclipse Lifting Magnet
Failsafe operation
Push button or remote control option
2:1 lift safety factor guaranteed
Rechargeable battery
Choosing a Lifting Magnet
Many of our battery powered lifting magnets, including the high capacity BUX BM5000, use a built-in power cell to control whether they are magnetised or not. In the case of this Eclipse unit, the change is essentially binary and the onboard battery is not active indefinitely to ensure magnetisation. Instead it acts as an on-off switch, much like the handles on standard permanent magnet lifting gear.
Safe Operation of the Eclipse Battery Activated Magnet lifter
There are a number of benefits to this design, including the failsafe operation and guaranteed safety capabilities already mentioned. Where this model stands out further is the ability to either be operated by a wired-in button, or from a distance using a remote. This lets operators keep out of harm's way while they are carrying out tricky tasks.
The flat magnet provides safe working loads of between 1250kg and 3000kg, depending on the Eclipse model you pick. So it can compete with other battery powered products in this category, which is impressive. There are few better options for moving magnetic loads, such as steel sheets.
Need extra help?
Send an email to Lifting Gear Direct from our site, or call 01384 76961, and one of our specialists will get back to you with what you need, from full product information to quotes and advice.
| | | | | |
| --- | --- | --- | --- | --- |
| Product number | SWL (KG) | A (mm) | B (mm) | C (mm) |
| EPML1250R | 1250 | 280 | 530 | 690 |
| EPML3000 | 3000 | 280 | 530 | 690 |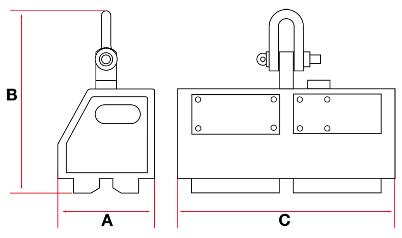 Product Number

SWL (KG)

Self Weight (KG)

Dia. Min (mm)

Dia. Max (mm)

Load profile

EPML1250R

1250

175

200

400

Round

EPML3000

3000

164

N/A

N/A

Flat