Cromox CDS Stainless Steel Swivel Lifting Eye Bolt
Buy the Cromox CDS Stainless Steel Swivel Lifting Eye Bolt from Lifting Gear Direct for the keenest prices around.
Brand::

Cromox

Product Code:

Cromox CDS

Availability:

In Stock
Call 01384 76961 for price.
About the Cromox CDS Stainless Steel Swivel Lifting Eye Bolt
The Cromax CDS grade 6 stainless steel lifting point is a swivel type eye bolt which prevents the bolt from twisting out during rotation. Which can happen with standard, non-rotating eye bolts.
Available in 2 sizes with lifting capacities of 500kg, M12 with a 22mm diameter screw thread. And the 1000kg, M16 with a 25mm thread. Size 8 & 10 allen keys respectively will be required for fitting.
The Cromox CDS swivel eye bolt it manufactured to high specifications. The stainless steel incorporates chromium concentrations for great protection. It is the added molybdenum that allows it to have higher safe working load limits.
Remember, as with all types of lifting equipment, regular inspections are necessary to ensure continued use in a safe manner.
Other Swivel Lifting Points
LGD can supply a number of other stainless steel swivel anchor points, including the CDAW and the CSAG weld on pivoting lifting eye, both from Cromox. We have a range of other branded swivels available including those from RUD and Gunnebo, Yoke and Cartec.
If you need an eye bolt that does not swivel then check out our standard range of eye bolts which include collared and dynamo varieties. Lifting chains, web slings and hooks are another of our specialities that work well with this type of lifting equipment.
Help and advice can be obtained by calling 01384 76961 of through an email with the rapid enquiry form. Our team are always ready to help.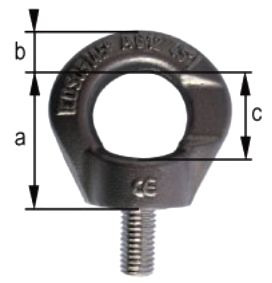 Type

A mm

B mm

C mm

 

SS-CDS-05

44

12.5

29.5

SS-CDS-10

49.5

14

32.5
Type

Thread

Allen Key

W.L.L. Tonnes

Mass KG

 

SS-CDS-05

M12 x 22

8

0.5

0.2

SS-CDS-10

M16 x 25

10

1

0.31