Cromox CSAG Stainless Steel Weld-on Lifting Point
The CSAG from Cromox is a lifting eye specifically for welding on for a permanent lifting point.
Brand::

Cromox

Product Code:

Cromox CSAG

Availability:

In Stock
Call 01384 76961 for price.
About the Cromox CSAG Stainless Steel Weld-on Lifting Point
The Cromox CSAG is a grade 6 stainless steel lifting point designed to be welded on to a suitable surface. The main benefit of a welded on anchor point is that it is permanent and often stronger if welded correctly. Experienced or coded welders should be used for fitting this type of eye bolt.
The Stainless steel CSAG model offers a 180 degree pivot. This makes it ideal for some forms of angled lifting. Always refer to the manufacturers instructions to find out the correct type of lift possible with your chosen lifting point.
The stainless steel used in the manufacture of this eye bolt is high quality. It consists of very specific amounts of chemicals to get the right end material. Molybdenum for strength, nickel for shiny appearance and chromium for resistance.
Available in 3 lifting capacities; 500kg, 1000kg & 2000kg. There are various measurements for each SWL model, please consult the tables below for specifics.
Other Weld on Swivel Eye Bolts
We have a great choice of weld on eye bolts at Lifting Gear Direct. These are predominantly manufactured by Cromox or RUD. Swivel hooks, eyes and lifting points are all available in the weld on type. Some also incorporate a locking feature in order to keep the ring in a static position.
Standard, non-swivel eye bolts are also readily available from LGD so why not take a look at the full range which includes collared eye bolts and dynamo eye bolts.
Contact Us
Whatever your lifting needs are, Lifting Gear Direct can help. We always aim to provide high quality customer services and low cost products from our family operated business. With many years of dedicated service you won't be disappointed. Call us today on 01384 76961.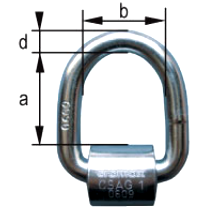 | | | | |
| --- | --- | --- | --- |
| Type | A mm | B mm | D mm |
| SS-CSAG-05 | 33 | 30 | 10 |
| SS-CSAG-10 | 44 | 40 | 13 |
| SS-CSAG-20 | 52 | 55 | 18 |
Type

W.L.L. Tonnes

Mass KG

 

SS-CSAG-05

0.5

0.165

SS-CSAG-10

1

0.37

SS-CSAG-20

2

0.955