Dynafor LLX2 Load Cell
The Dynafor LLX2 load cell indicator is a wireless unit with a detachable display, with WLL up to 10 tonnes. We have other tension load cell options at Lifting Gear Direct
Brand::

Dynafor

Product Code:

Dynafor LLX2

Availability:

In Stock
Call 01384 76961 for price.
About the Dynafor LLX2 Load Cell
Dynafor is a manufacturer of high quality load and force calculation kit, including the LLX2 load cell that can be supplied in a number of different capacity models by Lifting Gear Direct.
Capabilities & extras
The Dynafor LLX2 load cell indicator is a wireless unit with a detachable display, with WLL up to 10 tonnes.
KEY FEATURES:
· 80 metres range wireless connection
· USB port for PC connection
· simultaneous reading of several sensors on 1 or more displays
· display units; kg, T, daN kN, lbs.
· connection sensor to display = 2.4 GHz ZigBee
· interchangeable displays (16 channels)
· simultaneous readings of 1-4 sensors on master display
· Tare & peak load functions
· advanced functions = dynamic effects feature; auto-shutdown; 5 adjustable thresholds
· 3 x rechargeable batteries
· IP66 & IP67 option
Optional accessories available include monitoring software, PC communication protocol and an external antenna.
Practical benefits
From a productivity perspective, the fact that this load cell has a detachable display makes it especially appealing. It gives operators the ability to use it remotely and get incredibly accurate readings without putting themselves at risk.
The durable design of the LLX2 is also a big selling point, since it is able to offer IP66 protection to its internal components as standard. Then if you are in need of even more robustness to the design, an IP67 rated edition is available as an option, as mentioned above.
These features go hand in hand with the flexibility of being able to use this portably for extended periods, with its rechargeable batteries allowing for easy replacement and minimal downtime.
Alternative loads cells available
The maximum 10 ton WLL of the Dynafor LLX2 may be a little low for some customers, which is why we also stock a number of other load cell models which are built for heavier duties.
Dynafor's own LLXH is a good example of this, as it can be ordered with a capacity of up to 250 tonnes. There are also similarly well specified products from brands like Yale and Straightpoint, so if you have a preference for a particular manufacturer you can fulfill it here at LGD.
There are similar levels of choice amongst our other lifting equipment, which includes hoists, winches and a world of accessories fit for every need.
Order load cells today
To ask for more information about the Dynafor LLX2 or to place an order just email our team or give us a ring on 01384 76961.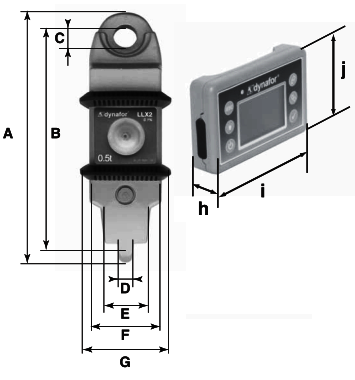 Model

LLX2 0.5t

LLX2 1t

LLX2 2t

LLX2 3.2t

LLX2 5t

LLX2 6.3t

LLX2 10t

Display Unit

Dimensions (mm)

A

248

248

248

248

290

290

341

 

B

224

224

224

224

254

254

296

C

Ø20

Ø20

Ø20

Ø20

Ø28

Ø28

Ø40

D

10

10

10

10

16

16

20

E

24

24

24

24

35

35

54

F

80

80

80

80

80

80

80

G

100

100

100

100

100

100

100

H

/

/

/

/

/

/

/

26.7

I

/

/

/

/

/

/

/

131

J

/

/

/

/

/

/

/

82