Dynafor LLXH Load Cell
The Dynafor LLXH is a wireless load cell indicator with a detachable display unit. With a 250 tonne SWL and an 80 metre wireless range this is a great way to check load weights. Buy today from Lifting Gear Direct.
Brand::

Dynafor

Product Code:

Dynafor LLXH

Availability:

In Stock
Call 01384 76961 for price.
About the Dynafor LLXH Load Cell
One of many load and force calculation products we supply, this unit from Dynafor can be ordered in various capacities and also gives you the opportunity to factor in convenient extras if you want to expand upon its already impressive standard features.
Basic spec breakdown
The wireless range is up to 80 metres and the WLL is up to 250 tonnes.
USB port for PC connection, enabling easy data transfer.

kg, T, daN kN & Lbs measuring units.

simultaneous readings of 1-4 sensors on 1 master display, or multiple sensors across several displays.

25mm LCD backlit wireless display unit - connection sensor to display = 2.4GHz ZigBee

Interchangeable displays ( 16 channels)

Tare & peak load features

adjustable dynamic effects filter, auto shutdown feature & 5 adjustable thresholds

3 x rechargeable batteries.
Options & accessories include; monitoring software, PC communication protocol and an external antenna.
Other advantages
The specifications and versatility of the Dynafor LLXH load cell should be obvious by now. If you want more details, you can check out the table of data a little further down the page to find out about each model within this range.
One thing it is worth noting is that these load cells are especially hard-wearing. The main body is rated for IP65 protection as standard, with the option to increase this to IP67 if you want even better shielding against environmental hazards.
The operational temperature range is also impressive, starting at minus 20 degrees Celsius and going up to 40 degrees.
More models to consider
The LLXH is just one of the load cells we supply here at Lifting Gear Direct. If you are committed to safe lifting then you might also want to invest in one of our crane scales, which are ideal for ensuring that WLLs are taken into account and not exceeded.
Once you have decided on the right load and force calculation equipment, you might want to broaden your search and check out the cavalcade of other products we both manufacture and supply to our clients across the country.
LGD can make custom gantry systems and jib cranes, as well as offering up lots of hoists, winches, beam attachments and accessories made in-house and by well-known brands alike.
Looking for more information?
We are happy to explain all there is to know about the Dynafor LLXH or any of the other products we offer. All you need to do is send LGD an email or dial 01384 76961 to have a chat with one of our team right now.
Model

LLXH 15t

LLXH 25t

LLXH 50t

LLXH 100t

LLXH 250t

Display Unit

Dimensions (mm)

A

320

360

440

660

905

/

B

247.5

277

338

488

685

ØC

47.5

56

72

108

150

D

130

134

164

260

424

E

58

68

98

118

248

F

48

58

86

104

190

H

/

/

/

/

/

26.7

I

/

/

/

/

/

131

J

/

/

/

/

/

82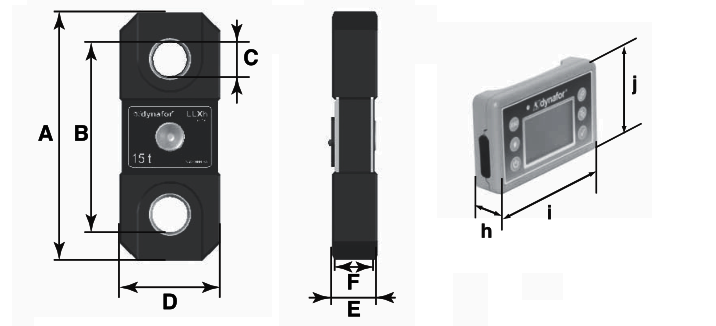 Model

LLXH 15t

LLXH 25t

LLXH 50t

LLXH 100t

LLXH 250t

Display unit

 

Maximum capacity

 

t

15

25

50

100

250

All

Test load

 

t

30

50

100

200

500

/

Safety coefficient

 

Minimum 4

Precision

 

 

0.2% according to ISO 376 21

°C

daN

30

50

100

200

500

/

Increment

 

daN

5

10

20

50

100

<

Max display

 

daN

16500

27500

55000

110.00t

275.00t

<

Number height

 

mm

/

/

/

/

/

25

Autonomy

 

From 300 to 1000h depending of functions

48h

Radio scope

m

80 (in open field) (IP 67=60)

RF Technology

 

 

2.4 Ghz

Weight

 

KG

4

6.6

15.1

46

215

0.18

IP Protection

 

IP65 (option: IP67)

IP54

Usage

 

From -20

° to 40°C

Sensitivity to T

°

 

0.05% per 10

°C

Sensor material

 

 

Aluminium

/