Kito CF Block and Tackle
The CF block and tackle by Kito are easy to use and require little maintenance due to their simple yet robust qualities
Brand::

KITO

Product Code:

kito cf

Availability:

In Stock
Not quite as roomy as the CB range, they nevertheless offer plenty of benefits and can be a cost-effective investment for businesses that need a modern manual chain hoist.
Kito CF Block and Tackle Features
The CF range is available in lifting capacities from 500kg up to 5000kg. The two largest models in the range rely on a pair of chain falls instead of a single setup in order to cope with heavier loads effectively.
Durability is definitely the calling card of this family of chain hoists, thanks largely to the aforementioned uncomplicated nature of the way that they are designed. Rather than coming packed with unnecessary add-ons, this range is designed to deliver excellent performance using only the most important components. From the lightweight alloy housing to the pre-lubricated bearings, it offers everything you need and nothing you do not, which obviously helps when it comes to maintenance.
Kito CF Chain Block Safety Benefits
The CF chain block may be a simple beast, but that does not mean that Kito has skimped when it comes to lifting safety. You get a built in braking system that provides a total of four different surfaces which can be engaged to bring the chain to a halt in any scenario. As long as you stick to the safe working limit it should be a secure, stable and ultimately reliable hoist.
Expand your Chain Block Options
Kito chain blocks come in a range of sizes, but this is just one of the big brands that you can find represented here at Lifting Gear Direct. We also offer high quality products from the likes of Yale, GT, Tiger and lots of other well known manufacturers. It is a good idea to check the specs of each unit you consider ensuring you buy the right bit of kit to cope with the kind of lifting applications that it is likely to encounter in your business.
How to Find out About Kito Chain Blocks
More information on the products we sell and manufacture at Lifting Gear Direct is an uncomplicated process. All it takes is a call to 01384 76961 or an email sent from our rapid enquiry page. A team member will get back to you with additional details or a quote in a fast, friendly manner.
| | | | | | | | | | | | | | |
| --- | --- | --- | --- | --- | --- | --- | --- | --- | --- | --- | --- | --- | --- |
| Code | WLL (t) | Std lift (m) | Min distance between hooks C (mm) | Chain pull to lift full load (N) | Chain ohauled to lift load one meter (m) | Test load (t) | Net weight (KG) | Load chain dia (mm) x pitch (mm) | Load chain fall (lines) | Weight for additional one meter of lift (KG) | A (mm) | B (m) | G (mm) |
| CF005 | 0.5 | 2.5 | 325 | 300 | 19 | 0.75 | 10 | 5 x 15.1 | 1 | 1.5 | 150 | 2.5 | 27 |
| CF010 | 1 | 2.5 | 370 | 360 | 31 | 1.5 | 12 | 6.3 x 19.1 | 1 | 1.8 | 174 | 2.5 | 29 |
| CF015 | 1.5 | 2.5 | 440 | 420 | 41 | 2.36 | 17 | 7.1 x 21.2 | 1 | 2.1 | 203 | 2.5 | 34 |
| CF020 | 2 | 3 | 510 | 400 | 63 | 3 | 21 | 6.3 x 19.1 | 2 | 2.7 | 204 | 3 | 36 |
| CF030 | 3 | 3 | 590 | 460 | 81 | 4.75 | 28 | 7.1 x 21.2 | 2 | 32 | 240 | 3 | 42.5 |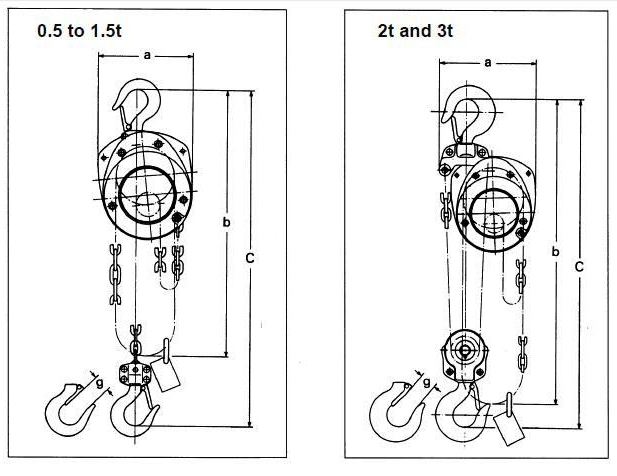 | | | | | |
| --- | --- | --- | --- | --- |
| Type | Rated load (KG) | Chain pull to lift full load (daN) | Load chain diam (mm) | Weight (KG) |
| CF005 | 500 | 30 | 5 x 15.1 | 11 |
| CF010 | 1000 | 36 | 6.3 x 19.1 | 13 |
| CF015 | 1500 | 42 | 7.1 x 21.2 | 18 |
| CF020 | 2000 | 40 | 6.3 x 19.1 | 21 |
| CF030 | 3000 | 46 | 7.1 x 21.2 | 28 |