Red Rooster TNC-50TW/4(H) Air Hoist
With lifting capacities of 50000kg the TNC-50TW/4(H) is the largest air hoist ideal for extra heavy duty lifting applications.
Brand::

Red Rooster

Product Code:

Red Rooster TNC-50TW/4(H)

Availability:

In Stock
Call 01384 76961 for price.
This 50 tonne pneumatic air hoist from Red Rooster is perfect for extra heavy duty industrial lifting applications in harsh conditions. Its CE marked and comply's with the EU machinery directive.
KEY FEATURES of the TNC-50TW/4(H)
Toku rotary vane motor
epicyclic gearbox
failsafe auto. internal disc brake
upper & lower limit switches - mechanical
cast steel casing
alloy safety swivel hooks
automatic - adjustable load limiter
load chain 22 x 66mm

With lower lifting speeds than some other models this hoist can lift fully loaded at 0.3 metres per minute and 0.4m/min unloaded.

OPTIONS AVAILABLE:

Marine and/or Atex specifications; extra corrosion protection; air service units; main air shut off valve; radio control; festoon systems

Other Hoists

If you need an air hoist but not one with this huge capacity or one with faster lifting speeds then take a look at some of our other air hoists, we have many model options to choose from including ones from Yale and JDN brands.

Electric hoists are another option, especially if you don't have an air supply. We can supply you with any hoist from our range quickly and at great prices. Lifting slings, lifting shackles and many other types of lifting equipment are available to help you complete your lifting task.
Model

A mm

B mm

C mm

D mm

E mm

F mm

G mm

H

Ø mm

I mm

J mm

K mm

L mm

M mm

N mm

TNC-50TW/4(H)

2033

1276

603

673

346

366

132

140

100

106

926

1018

550

800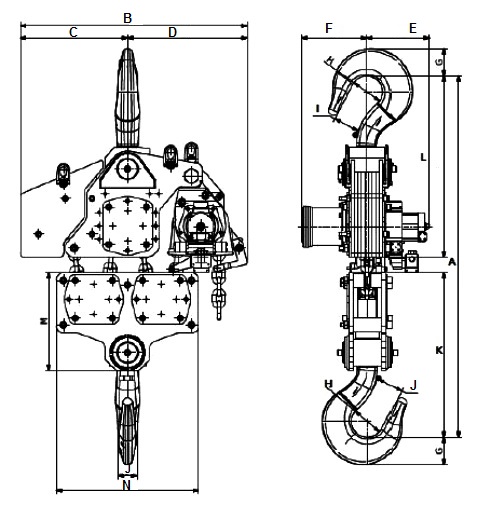 Model

WLL (KG)

Lifting speed with load

Lifting speed without load

Lowering speed with load

 

TNC-50TW/4(H)

50000

0.3 m/min

0.4 m/min

0.35 m/min

 

Air consumption lifting

Air consumption lowering

Air connection

Minimum hose dia

TNC-50TW/4(H)

90 l/sec

100 l/sec

1" BSP

1" hose

 

Chain falls

Working pressure

Weight with 3m HOL

 

Additional metre HOL

 

TNC-50TW/4(H)

4

6 bar

1110KG

43.6KG