Verlinde Stagemaker SM Electric Hoist
The Verlinde Stagemaker SM electric hoist is the pre-curser to the latest
SR hoist
though is still very popular. It is a compact hoisting system which is extensively used in the entertainment industry.
Brand::

Verlinde

Product Code:

verlinde-stagemaker-sm-electric-hoist

Availability:

In Stock
Call 01384 76961 for price.
These are ideal for use in stage and theatre applications, but are also perfect for use on mobile tours.
These compact electric hoists are very versatile with some models being able to be used in an inverted position. This essentially turns them into a climbing hoist where the load is attached to the suspension hook. This means that the hoist is suspended from the load hook and therefore when operated the entire hoist body together with the attached load will be lifted.
All models are available as a standard hoist in the normal position and are used in the same way as any other standard hoist. To be able to use these hoist either way can make theatre work much easier. Stage sets, lighting systems and speakers as well as scenery can be handled in a much safer and quicker way.
Key Components of the Verlinde Stagemaker SM Electric Hoist
The Stagemaker SM has some great features to ensure the hoist works to optimum performance, consistently and safely as well as making the hoist easier to use.
The main body of the hoist is made from injection cast aluminium to reduce the weight. There are also ribbed vents to enable efficient heat dissipation. There is a large panel for access to electrical components including plug and play controllers. Maintenance is also carried out from here.
For fluidity of the chain movement the load wheel has 5 machined pockets and with a horizontal chain flux output the chain is guided seamlessly.
The black electro-galvanized lifting chain minimises its visibility which is an added bonus when used in theatres etc. This feeds into and out of the high graded fabric chain bag which can be removed.
Version A has a class F motor, electro-magnetic disc brake and load limiter for enhanced safety. Swivel hooks make fitting the hoist and attaching loads much easier, and the hand grip makes handling and transportation easier too.
Options Available
There are many extras available including controller packs and flight cases for easy transport.
There are numerous configurations available, Models SM1, 2, 5 & 10 can be configured as a climbing hoist whilst the above plus the SM16, 20 & 25 are configurable as a standard industrial type suspension hoist.
There is a wide range of optional equipment available for the Verlinde Stagemaker SM electric hoist, these include:
Built in encoder
Pendant control
Geared limit switches with 2 or 4 cams
2 lifting speeds
Double brake
Load monitoring system
4, 6, 8 or 12 channel controllers
Motor versions – BGV-C1 (VBG-70) & BGV-D8+
Very low 48v control
Variable speed.
Also available in a variable speed versions (version V) for optimum precision. This is based on the SM10 model and comes in 500kg, 1000kg and 2000kg lifting capacities. The variable speed hoists incorporate a continuous speed monitoring system.
There are other choices of Verlinde electric hoists available as well as other types of hoisting equipment, please contact us if you require more technical details.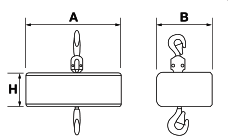 Capacity (KG)

Type code

Speed (m/min)

Hoist duty cycle %

?

Nb of falls

 

Chain size (mm)

Motor power (kW)

Dimensions

? (mm)

Weight

? (KG)

 

Version A-B-C and E

Version D

 

 

 

 

 

 

 

 

 

 

 

Standard

 

Advanced safety

 

 

 

 

 

 

 

 

 

 

 

BGV-D8

BGV-D8+

?

BGV-C1

?

 

 

 

 

 

A

B

H

Hoist body

Chain p/m lift

 

125

SM1 128M1

 

 

8

40

 

3.1 x 9.3

0.2

278

200

110

14

0.2

SM5 1216M2

SM5 1216M2

 

16

40

1

4.8 x 12.5

0.45

401

247

135

27

0.55

250

SM2 254M1

 

 

4

25

1

4 x 12

0.2

334

200

110

17

0.35

SM5 254M2

 

 

4

40

1

4.8 x 12.5

0.45

401

247

135

27

0.55

 

SM5 254M2

 

4

40

1

4.8 x 12.5

0.45

451

247

135

27

0.55

SM5 258M2

 

 

4

40

1

4.8 x 12.5

0.85

401

247

135

27

0.55

 

SM5 258M2

 

8

40

1

4.8 x 12.5

0.85

451

247

135

27

0.55

SM5 2516M1

 

 

16

25

1

4.8 x 12.5

0.85

401

247

135

27

0.55

500

SM5 504M1

 

 

4

25

1

4.8 x 12.5

0.45

401

247

135

27

0.55

 

SM10 504M2

SM10 504M2

4

40

1

6.8 x 17.8

0.9

588

283

175

52

1.22

SM5 508M1

 

 

8

25

1

4.8 x 12.5

0.85

401

247

135

27

0.55

 

SM10 508M2

SM10 508M2

8

40

1

6.8 x 17.8

1.75

588

283

175

52

1.22

SM10 5016M1

 

 

16

25

1

6.8 x 17.8

1.75

481

283

175

48

1.22

1000

 

SM10 1002M2

SM10 1002M2

2

40

2

6.8 x 17.8

1.75

588

283

175

52

2.44

SM10 1004M1

 

 

4

25

1

6.8 x 17.8

0.9

481

283

175

48

1.22

 

SM10 1004M2

SM10 1004M2

4

40

2

6.8 x 17.8

1.75

588

283

175

52

2.44

SM10 1008M1

 

 

8

25

1

6.8 x 17.8

1.75

481

283

175

48

1.22

 

SM16 1008B1

 

2/8

25

1

9 x 27

3.5/0.87

518

490

195

115

1.8

1250

 

SM25 1256B2

 

1.6/6.3

40

1

11.3 x 31

3.5/0.87

518

490

195

115

2.85

1600

SM16 1608B1

 

 

2/8

25

1

9 x 27

3.5/0.87

518

351

195

100

1.8

2000

SM10 2002M1

 

 

2

25

2

6.8 x 17.8

1.75

588

283

175

52

2.44

SM10 2004M1

 

 

4

25

2

6.8 x 17.8

1.75

588

283

175

52

2.44

 

SM20 2004B2

 

1/4

40

2

11.3 x 31

3.5/0.87

518

490

195

115

2.85

SM20 2008B1

 

 

2/8

25

2

11.3 x 31

3.5/0.87

518

351

195

110

2.85

2500

 

SM25 2503B2

 

0.75/3.25

40

2

11.3 x 31

3.5/0.87

518

490

195

115

5.7

5000

SM25 2506B1

 

 

1.6/6.3

25

1

11.3 x 31

3.5/0.87

518

351

195

110

2.85

SM25 5003B1

 

 

0.75/3.25

25

2

11.3 x 31

3.5/0.87

518

351

195

125

5.7

? Includes safety factor 10 and double brake

 

 
 
 
 
 
 
 
 
 
 

? Includes safety factor 10, double brake, overload detection and special controls

 

 
 
 
 
 
 
 

? Weight and sizes are indicative

 

 
 
 
 
 
 
 
 
 
 

? Electric motors are min. 40% ID - 240 starts per hour

 

 
 
 
 
 
 
 
 
 
VARIABLE SPEED SPECIFICATIONS:
Capacity (KG)

Version V

Speed (m/min)

Hoist duty cycle %

?

Nb of falls

Chain size (mm)

Motor power (kW)

Dimensions

? (mm)

Weight

? (KG)

 

Standard

Advanced safety

 

 

 

 

 

 

A

B

H

Hoist body

Chain p/m lift

 

 

BGV-D8

BGV-D8+

?

 

 

 

 

 

500

SM10.508V2-V

 

0.5/8

50

1

6.8 x 17.8

1.75

481

381

175

50

1.22

 

SM10.508V2-V

0.5/8

50

1

6.8 x 17.8

1.75

588

381

175

54

1.22

SM10.5016V1-V

 

1/16

40

1

6.8 x 17.8

1.75

481

381

175

50

1.22

 

SM10.5016V1-V

1/16

40

1

6.8 x 17.8

1.75

588

381

175

54

1.22

1000

SM10.1008V1-V

 

0.5/8

40

1

6.8 x 17.8

1.75

481

381

175

50

1.22

 

SM10.1008V2-V

0.5/8

50

2

6.8 x 17.8

1.75

588

381

175

54

2.44

2000

SM10.2004V1-V

 

0.25/4

40

2

6.8 x 17.8

1.75

481

381

175

50

2.44

? Includes safety factor 10 and double brake

 

 
 
 
 
 
 
 
 
 

? Includes safety factor 10, double brake, overload detection and special controls

 

 
 
 
 
 
 

? Weight and sizes are indicative

 

 
 
 
 
 
 
 
 
 

? Electric motors are min. 40% ID - 240 starts per hour