Yale RPA Pneumatic Winch
The RPA wire rope winch is pneumatic and powered by a compressed air supply, ideal when manually operated models or electric models are not an option.
Brand::

YALE

Product Code:

Yale RPA

Availability:

In Stock
Call 01384 76961 for price.
About the Yale RPA Pneumatic Winch
One of the many Yale products we stock at Lifting Gear Direct, the RPA is a pneumatic winch that packs a punch in a variety of settings, sitting in amongst our electric and manual winches to give you the ultimate in terms of choice as well as value for money.
Design & benefits
The compact cube design and universal rope lead offs enable lifting, pulling and positioning in practically any position.
With pulling forces of between 250 & 500 daN and 100% duty rating this winch is suitable for heavy duty applications.
Not suceptible to humidity, or ingress of contaminants.
Key Features of the Yale RPA Pneumatic Winch:
High starting torque rotating piston motor
4-6 bar operating pressure
spring pressure disc brake
sensitive control due to the directly acting valves in the control.
There are various optional extras avaiable including:
Extended drum designs to allow for a longer rope;
Grooves for exact reeling with seperation web & 2nd rope outlet to enable working with 2 ropes and traversing operations;
Control including 2.5m hose & air coupler and corrosion proof models;
Winch options
If you are considering ordering a winch from LGD but are unsure of which model is right for you, it makes sense to consider the context in which you intend to use it.
Our electric winches, including the Yale RPE, are effective in scenarios where you have access to a mains power supply. Meanwhile if you are looking for a more compact, portable option then a manual winch could suit.
The Yale RPA slots in between these two types, delivering the pulling power of an electric winch with the convenience of a manual winch, allowing it to cater to fairly specific operations.
Of course as an LGD customer you also have a huge number of other lifting equipment options at your disposal, with WLLs ranging from a few hundred kilos to tens of tonnes. It is this level of choice which gives us the edge as a supplier, as well as our competitive pricing on products from the biggest brands.
Call or email today
Speak with an LGD operative to get more information on the Yale RPA or for a quote by calling 01384 76961 or by using our email form.
Model

A

B

C

DTR

D max

DA

E

F

G

H

I

K

L

M

N

O

P

Q

R

S

?1

?

?2?

?3?

β1?

β2?

β3?

RPA 2-13

405

375

18

76

104

150

336

210

260

290

11

250

125

6

33

194

19

13

125

4

130

90

20

150

70

60

RPA 5-6

405

375

18

76

104

150

336

210

260

290

11

250

125

6

33

194

19

13

125

6

130

90

20

150

70

60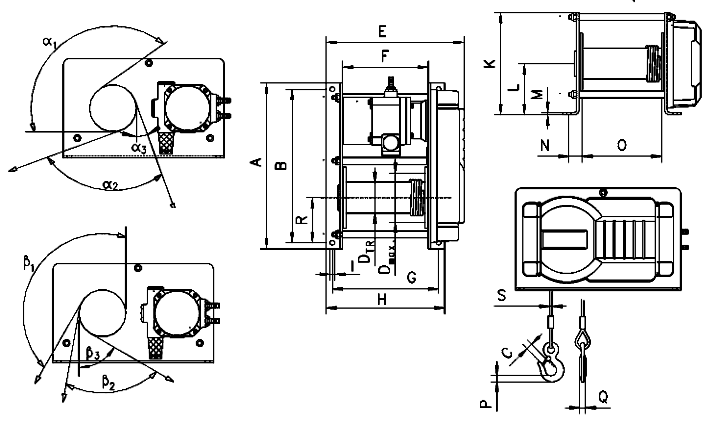 MODEL

Pulling Force in upper layer

 

Lifting Speed with rated load

Lifting speed without load*

Lowering Speed with rated load

Rope Diameter

  

Useable Rope Length

                                per layer in metres

Weight

 

daN

m/min

m/min

m/min

mm

1st

2nd

3rd

4th

kg

RPA 2-13

250

13.6

20

22

4

11.2

24.4

38.8

54.5

36.7

RPA 5-6

500

6.9

10

11

6

7

16.4

27

38.8

36.7