500kg A-Frame Lifting Gantry
Our smallest 500kg A-Frame Gantry has a safe working load limit of 0.5 tonne and is lightweight enough to be moved around easily, though they are generally used in one place and can be permanently bolted to the ground. Buy our self manufactured gantries for the best crane prices.
Call 01384 76961 for price.
If you require a lifting gantry with easier mobility then you should look at our range of mobile gantry systems which have castors / wheels. We also sell lifting gear of all kinds, from manual winches and clamps to electric hoists and jib cranes. From working at height to transporting goods, there is something on our site for businesses of all types.
500kg A Frame Gantry Crane Quality Assurance
They are manufactured in our workshop to BS2853/BS2573, are CE marked and come with appropriate certification. This means you can be sure that each unit is built to the highest standards and guaranteed to operate as intended. We custom-build each unit to the specifications you require and can come up with a unique design if you need a very specialised A frame gantry.
Remember that all lifting equipment has to be inspected annually to make sure that it is still safe and stable. We not only build our own lifting gantry systems but offer follow up maintenance services and compliance testing. You can also buy height safety equipment on our site to make sure that employees have the right kind of protection to avoid injury and incidents.
Using a 500kg A Frame Lifting Gantry
Our A-frame's consist of 3 easy to bolt together parts for your convenience. Although the most popular lifting gantries consist of castors, plated feet can be arranged if you require semi-permanent or permanent fixing to the ground. It is also possible to use a lifting gantry on plated feet without fixing down; these will often require the use of parking jacks if used on un-even surfaces.
Practical Benefits & Gantry Crane Extras
The half-tonne safe working limit on this particular lifting gantry is suitable for plenty of different lifting jobs, whether handling cargo and equipment or helping with at-height work. It may be relatively light and manoeuvrable, but this entry level model in the A Frame range is still sturdy, practical and versatile. Whether you want a portable setup or something a little more permanent, we can create the ideal gantry package for you.
We can also add any of the following to your A-frame gantry as extras:
1. parking jacks
2. festoon/catenary wires
3. electric isolators
4. Beam trolleys and any type of lifting hoist.
All of these extra are available as part of your gantry order, or as separate components sold individually on our site. So even if you have an existing gantry that you want to overhaul or enhance, you can do so with ease thanks to Lifting Gear Direct. Our cost-effective pricing and high levels of quality have made us a leader in this segment of the market.
Find out about A Frame Gantry Crane Systems
The experts at Lifting Gear Direct can be relied upon to provide advice, guidance, product info and quotes across all of the items we offer on our site. If you want to get in touch, just call 01384 76961 and someone will speak to you about your questions. Email us if a phone call is not convenient and we will respond as soon as possible
PLEASE CLICK ON THE INDIVIDUAL PRODUCTS BELOW FOR MORE INFORMATION ON EACH SIZE.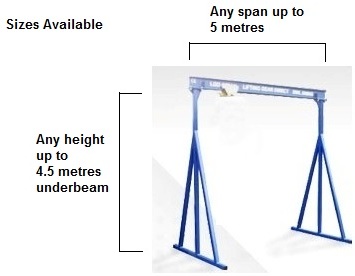 | | | |
| --- | --- | --- |
| SWL | Height Under Beam  | Span |
| 500kg | 3000mm | 3000mm |
|  500kg | 3000mm | 4000mm |
| 500kg | 3000mm | 5000mm |
| 500kg | 4500mm | 3000mm |
| 500kg | 4500mm | 4000mm |
| 500kg | 4500mm | 5000mm |