Scaffold Hoists
Here at Lifting Gear Direct, we stock a wide variety of scaffold hoists, a 110volt scaffold hoist, scaffold winch models and related accessories, catering for the needs of construction workers throughout the UK. There are numerous model choices with the TEA HE235 electric scaffold hoist a best seller. You can buy an Imer scaffold hoist along with a great selection of accessories for hoisting up your materials easily. So if you need a scaffolding hoist you have come to the right place, we have builders gantry hoists available too.
Refine Search

These scaffold lifts provide efficient lifting power, as well as designs which are attuned to outdoor operations. Read on to discover all about the products we sell in this category, the brands that are available and the versatility that this lifting equipment brings to the table.
Varied Options including a 110volt Scaffold Hoist
This genre of lifting equipment we supply comes from the leading manufacturers including Imer & T.E.A. These quality hoisting devices conform to all necessary standards, so you can be assured of excellent reliability. Most of the TEA range can be either 220volt or 110volt scaffold hoists.

We also supply a great little mini winch which is only for inside use, this is perfect for gymnasiums or theatres for example for scenery and/or lighting placement. Health and safety is just as important in the creative industries as anywhere else. This means that it is important to pick a scaffold hoist that meets or exceeds the standards that are expected, which is precisely what we offer in the form of this mini winch.

Further Electric Scaffold Hoist Info
We are able to provide full specifications for each model, covering motor type, engine power, frequency, voltage and a range of other information.

Product descriptions for all of our scaffold & gantry hoists, as well as the related accessories, are available to view online by clicking through the relevant page links below.

Imer Scaffold Hoists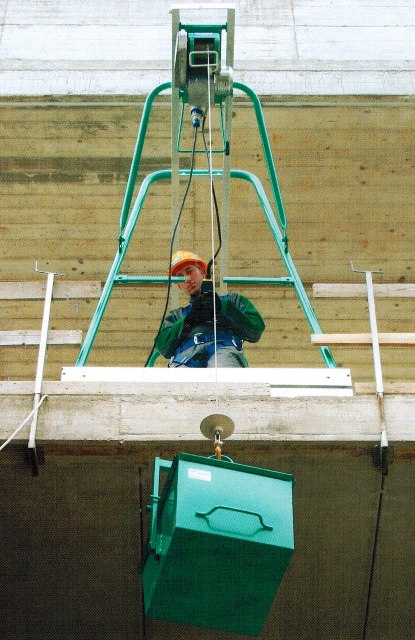 The range of scaffold hoists from Imer is made up of a number of models, each of which has its own features and capabilities.

First up is the ES 150N, which can lift loads at speeds of up to 19 metres per minute and is equipped with a 31 metre wire rope which makes it great for working at height. It has a host of other benefits to offer, including a payload capacity of 150kg, a durable IP65 rated control pendant to combat adverse environments and a self-braking motor that ensures safety.

Next is the ET 200N, which has a 200kg load limit, a design that lends itself to outdoor use at construction sites and a high cycle rate to make lifting building equipment and materials fast and straight forward.

Finally the TR 255N scaffold hoist ups the ante with its resilient telescopic framework, its surprisingly quiet motor and its versatile operational capabilities.

T.E.A. L'Europea Scaffold Hoists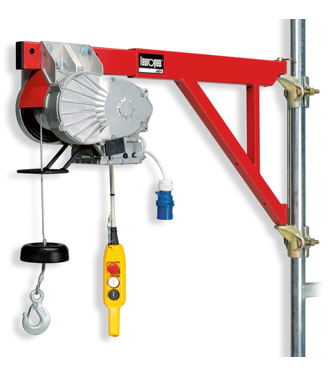 Another respected line up of scaffold hoists is provided by T.E.A, bringing you yet more flexibility when choosing the right lifting gear for the job.

The HE 200 is an exceptionally versatile hoist assembly because of its radio control system, providing 200kg of capacity with the option to activate its lifting remotely. It still comes with a control pendant, but it can still be used effectively even if this is not within reach of the operator.

The HE 235 scaffold hoist comes with its own brackets which make it simple to affix to an already erected scaffolding pole. It has an average lifting speed of 23 metres per minute, a capacity of 200kg and a reliable single phase motor which will not let you down during high cycle operations.

The HE 150 is a smaller hoist with a 150kg load limit, an incredibly sturdy 4mm steel cable that measures 40 metres in length and a supremely powerful 1000W engine that can reel in loads at up to 33 metres per minute.

The standard HE 200 does not come with the radio control capabilities of its stable mate, but still has a lot to offer thanks to its 200kg capacity, resilient 25 metre steel cable and unfussy, easy to master pendant controls.

Scaffold Winch Range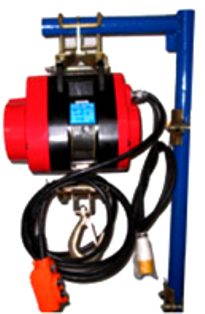 Another product you will find in the line up of hoists and hoisting equipment here at Lifting Gear Direct is the compact yet capable mini winch.

While the other hoists mentioned so far have been built to take on heavy duty work in outdoor environments, where wet weather can be expected, the mini winch is designed for indoor applications.

It has a max lift height of 20 metres, a modest lifting speed of 12 metres per minute and solid yet not quite class-leading IP20 protection rating.

Operating the mini winch is uncomplicated thanks to the pendant control unit. Its name might make you assume that it has a low load capacity, but this is not the case. In fact it can work effectively with loads weighing up to 250kg, which is an impressive feat for a hoist of this size.

Building and construction sites nearly always have scaffolding ; this allows the use of scaffold hoists for transporting materials to different levels of the build, however, when scaffolding isn't available a scaffold hoist cannot be used and so a gantry hoist is used instead.

Browse the full Hoist Range
Scaffold hoists like these have a fairly specific application within the construction sector, but we also sell lifting equipment that is adapted to suit tasks in a range of other business environments. From manual chain hoists that are perfect for workshops to the accessories that go along with varied lifting uses, you are sure to find something to meet your needs.

We can even inspect lifting equipment and make sure that it is up to code. As a result you can keep your scaffold hoist system in good working order long after it has been delivered and installed.

Considering Lifting Gear Options
Lifting building materials, equipment and even people will be necessary in a number of different construction scenarios. It is vital to choose the right kit for the job, whether it be a scaffold hoist, gantry hoist or other contemporary product. We stock height safety equipment and supplies that will also be an important investment to go along with your electronic or manual lifting gear.

It is sensible to think carefully about both the load capacity and speed of operation that a given hoist can deliver. Choosing the largest, most powerful model is not always the best option, especially if you will only be using it for much lighter lifting tasks.

Scaffold winch safety measures
With a high quality scaffold winch supplied by Lifting Gear Direct you can expect that the built in systems designed to improve lifting safety will be capable of limiting the likelihood of accidents occurring. However, all the preventative measures in the world will be meaningless unless you are also committed to operating the equipment in a safe way.

Establishing safe lifting practices is important for a number of reasons, not least because incidents and injuries are a persistent risk in commercial environments. Downtime caused by avoidable hiccups can cost your business money and reduce trust in the organisation amongst employees and customers alike. When using a scaffold winch, it is therefore vital to adhere to strict protocols and ensure that load limits are never exceeded, no matter what.

Our custom lifting assemblies
A full line up of scaffold winch products is just a small part of the lifting equipment supplies we stock. Take our crane and gantry systems, for example. In addition to high quality jib cranes from well known brands like Demag and Donati, we also manufacture custom cranes in-house for businesses across the country. Choose the dimensions, load capacity and equipment you want to add to your bespoke assembly and our engineers will create something unique just for you.

If you want the portability and convenience of a scaffold winch but with even more flexibility thrown into the mix, our lifting gantries might fit the bill. Mobile gantries made to measure are a popular option for obvious reasons, delivering impressive portability and convenience along with practical load capacities and powerful lifting performance on the move.

Extras to enhance your scaffold winch
We have already covered the scaffold winch-specific accessories that can be ordered from LGD, but your options for augmentation do not stop there. Our site is the best place to find lifting accessories of all types, from shackles and swivel eye bolts to snatch blocks and beyond.

To get even more out of your scaffold winch, why not invest in one of our excellent lifting slings? These can be used to handle loads of many types, with chain slings and fibre rope slings sitting happily alongside one another in our range. We even have round slings and wear sleeves which can compliment specific operations and limit the friction that occurs during lifting.

Important scaffold winch advice
If you are not well versed in the kinds of features, capabilities and limitations that scaffold winches have to offer, it is sensible to seek out the assistance of specialists who know exactly how to provide advice on this issue.

This is not just about ensuring safety, but also about avoiding a situation in which the scaffold winch you choose is far too powerful to be justified by the work you have in mind. Lifting Gear Direct has a lot of experience in this area and will be the best place to both buy scaffold hoist equipment and also learn more about the ins and outs of each product and manufacturer operating in this category.

Get Help with our Scaffold Hoists and gantry hoists
Further information can also be obtained by completing our rapid enquiry form. So if you are in need of a scaffold hoist, please do not hesitate. Get in touch today! You can even speak to someone on the phone by calling 01384 76961. Our friendly, experienced team will not let you down!