Bow shackles
The rounded section of a bow shackle offers a wider area for attaching slinging equipment such as web slings, round slings or wire rope slings; as well as chain slings. We offer a choice of bow shackles for lifting and other purposes, there are many sizes and bolt fittings to choose from with prices starting from as little as 18p. Browse the full range of shackles, make your choice and buy online today.
Showing 1 to 9 of 9 (1 Pages)
Bow shackles may also be called anchor shackles; however the latter typically possesses a smaller bow area than a standard bow shackle.

Different Bow Shackle Features
Unlike a
Dee shackle
, a bow shackle is able to be loaded at an angle, however depending on the angle of the loads pull the safe working load rated capacity will need to be reduced according to the table shown. It should be noted that a round pin bow shackle must not be side loaded, only screw pin or bolt type bow shackle should be used for this type of lifting application.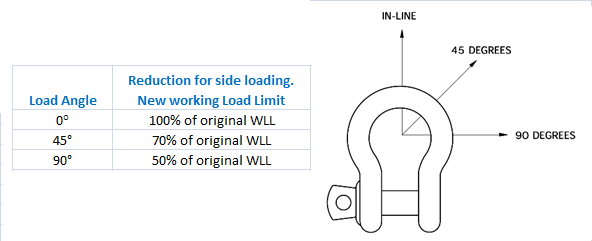 Bow shackles have a lower strength rating than a similar sized Dee shackle, are slightly larger and take up more room. Bow shackles are commonly used where multi leg slings are needed; the sling should be seated within the bow and the shackle fitted to a hook with its pin, never the other way round.
Bow Shackles Available
Lifting Gear Direct
can supply bow shackles in a vast range of sizes and pin types as well as the more common hot dipped galvanized shackles or in a stainless steel version. Other finishes available include electro-galvanised, painted or self coloured, depending on the shackle chosen; see individual products for more information. Stainless steel bow shackles offer more corrosive resistance and so are better suited to marine environments or other high moisture areas. Galvanized steel shackles are typically the cheaper option and are mostly used for industrial lifting applications.
Safety when using Lifting Shackles
When deciding on the correct shackle for your intended application you should always ensure that the safe working load limit, bow size, and pin type will work efficiently and safely with your task. You should always take into account if side loading or shock loading is a possibility. Also note that commercial shackles must not be used for any type of lifting operation.
Lifting safety
is not an issue to be taken lightly, but with our high quality bow shackles you can be secure in the knowledge that you have invested in the best product for the job.
Other Lifting Solutions
We sell shackles of all sizes and capacities, along with equipment for every conceivable lifting task you might need to tackle. If you need a
crane or a gantry system
for your workshop or factory, we can supply a bespoke assembly at a competitive price. If you are looking for
hydraulic lifting equipment
which is compact enough to operate effectively where space is limited, we can also help out.
If your lifting duties involve employees working at height, our
safety equipment
can be an essential investment. There is no need to leave anything to chance when you have the right kit, from fall arrest blocks to sturdy access platforms. Each item we sell is tested, checked and shipped to you in excellent condition, so you can start using it to improve safety and productivity in a jiffy and enjoy hour after hour of consistent, reliable performance.
Ask us your Shackle Questions
You might not be clued up on all things shackle-related, in which case a call or email to LGD is all you need to get important facts about our products. Reach us on 01384 76961 or use our rapid response form if you would rather
make your query via the web
.