Snatch Blocks & Sheave Blocks
Snatch blocks and sheave blocks often called a pulley block, snatch block pulley or wire rope pulley are used to change the directional pull of a load. They act as the connection between the load and the lifting device and are used with wire or fibre rope. This lifting accessory also enables extending the lifting capacity of other lifting devices such as a winch or cable puller. Buy a snatch block or sheave block at great prices from Lifting Gear Direct today.
Showing 1 to 8 of 8 (1 Pages)

About the Snatch Block
There are a range of blocks to suit different applications, snatch blocks enable the wire rope to be easily fitted as they open up to insert the rope instead of pushing it through. Some blocks have bronze bushes whilst others have ball bearings and come in single sheave or multiple sheave varieties.
Snatch blocks can be attached to anchor points through a choice of different fittings, with different models offering different means of securing the unit in place for safe lifting.
For example, you may prefer to opt for a snatch block that has a shackle attachment. This is appropriate if you are looking to create a semi-permanent setup where you will not be removing the block very regularly. Alternatively you may prefer a snatch block with a hook installed. This snap hook approach allows for quick detachment and is ideal for temporarily affixing the block in place where it is needed most.
About the Sheave Block
When using sheave blocks there are some common safety procedures and calculations to follow, in particular the angle between the load and the line which affects the load on the block, and the number of sheaves and lines used, here are the basics.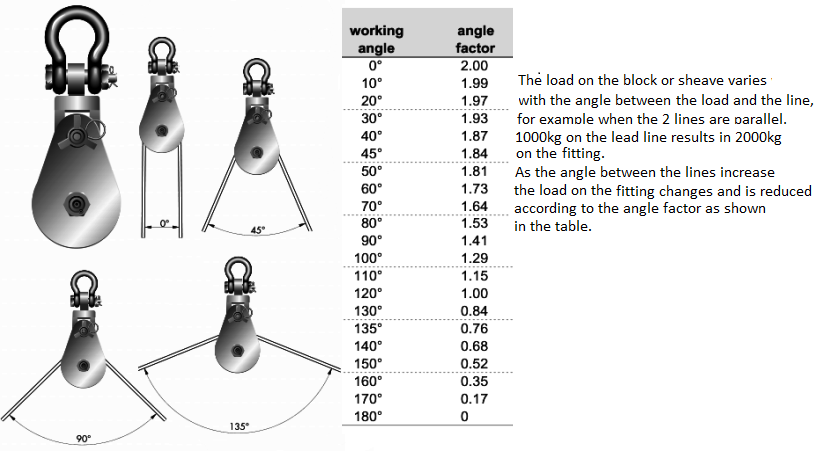 Pulley Block Quality construction
Each pulley block in this category is built to last using the best materials available and with the most precise attention to detail, as you would expect from products sold by Lifting Gear Direct.
We endeavour to offer kit from popular brands which meets industry standards. We also make our own brand equipment, including jib cranes and gantry systems which can be used in conjunction with our snatch blocks and other items if you need something seriously special for your setup. With so much choice you are sure to avoid disappointment when you order with us.
Our contact info
You can head to our contact page if you want to email us with a question or to request a quote for any of our equipment. You can also ring us on 01384 76961 and one of our friendly sales staff will field your queries and provide additional product details in a flash.