Frequently Asked Questions
We are a sister company to Rope Services Direct and Cranes Direct, and between us we have decades of experience within the lifting gear industry.
At Lifting Gear Direct we manufacture, stock or supply around 40 different types of lifting gear, with everything from small lifting accessories necessary to conduct the actual lifting and lowering, to the cranes themselves.


What do you sell at Lifting Gear Direct?
Welcome to the FAQs page of Lifting Gear Direct. Here we provide a range of frequently asked questions with answers to some of the most popular questions we are asked. We hope you find this page useful and welcome any feedback you may have after you have read through this page.
Which brands do you stock?
As well as manufacturing and stocking a number of our own products, we also stock equipment from well-known brands including Gunnebo, Camlok, Yale, Kuplex, Morris, Rud, Spanset and HiForce Hydraulics.
What is the webbing sling colour code?
All webbing slings and lifting slings have to conform to an industry standard colour coding system, which helps anyone in the industry identify the lifting capacity of that webbing sling.

The different colour coded webbing slings
The colours are:
500Kg lifting slings – black

1 tonne lifting sling – purple

2 tonne lifting sling – green

3 tonne lifting sling – yellow

4 tonne lifting sling – grey

5 tonne lifting sling – red
6 tonne lifting sling – brown

8 tonne lifting sling – blue
10 tonnes and above – orange
How heavy is 1 tonne in kilograms?
You will see weights listed on our website in either tonnes or kilograms. One tonne is equal to 1000kg.

How should I safely store my webbing sling?
It is important to store any product or piece of equipment safely, but this is especially so for webbing slings as they are made of a much lighter material.
Most lifting and webbing slings have a good level of resistance to weather conditions and corrosive substances, but it is recommended to follow the below guidelines.
For concerns with the temperature of storage:
Both polyamide and polyester webbing slings are suitable for storage in temperatures which can range from -40°C to 90°C
Polypropylene slings can similarly be stored in temperatures ranging from -40°C but only to 80°C

For concerns with the use of chemicals within the place of storage:
Polyester slings are resistant to most acids but provide only minimal resistance to alkalis

Polyamide slings have a high immunity to alkalis but are considered weak when used with acids
Polypropylene slings though offer the "best of both worlds" with both acid and alkali resistance

If you are looking for further advice or support on using your lifting slings safely, this is an excellent resource from the United States Department of Labour. Alternatively, feel free to get in contact with us here.

What does EWL mean?
EWL means effective working length. This is the total length of a piece of lifting equipment, and is measured from bearing point to bearing point.
What does SWL mean?
SWL is the safe working load, also called the working load limit (WLL). This is the total force that a piece of lifting equipment can safely lift, lower or suspend without breaking and causing damage.

What are lifting gear accessories?
Lifting gear accessories, such as air hoists or chain slings, are pieces of equipment that conduct the actual lifting and lowering themselves. Therefore, they are fully compatible with structures that can hold the weight of the load, for example floor cranes.
What are wire ropes?
Wire ropes are ropes that have been constructed by weaving pieces of wire, usually stainless steel, together to form strands, and then weaving the strands together to form the wire rope. This makes a sturdy, reliable piece of equipment.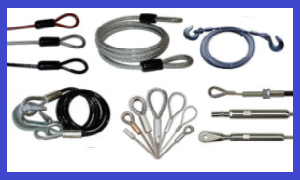 Wire ropes are extremely sturdy pieces of equipment


What services can you provide?
We stock a wide range of lifting gear equipment, including
air hoists
,
cable pullers
and
floor cranes
, and so are able to offer assistance for many different problems. Our sales personnel and customer service agents will be on call to help with crafting a tailored solution. We also have fully trained and skilled engineers in our team, meaning we can offer you electrical and mechanical repairs both on and off-site. They can also offer site examination and testing, as well as setup and installation services. They are on call 24 hours a day, 7 days a week.
Finally, we have delivery and collection vehicles on hand to ensure your equipment reaches you safely.
What industries do you operate within?
As we have such a large range of lifting gear equipment on offer, we operate within many different industries. This includes, but is not limited to, the construction, engineering, architecture, marine and shipping industries.
Many of our lifting products are used within the construction industry


Do you stock any products other than lifting equipment?
Yes, we do have some alternative products. For example, we stock
tipping skips
, which can be used to keep an area clean and tidy.
Do I need to inspect my lifting equipment?
Yes – we would recommend inspecting all equipment before each use. As it is highly likely that your equipment will be lifting heavy loads, safety must come first. Some products, such as webbing slings, will be easily identifiable should they be damaged, but other products, such as wire rope, may have internal damaging.
Be sure to conduct thorough inspections, or contact us and we would be more than happy to do this for you. If you do notice any damaged equipment, we would recommend disposing of it immediately.
You can read more on our
lifting gear inspections here
.
What is height safety?
We take height safety extremely seriously at Lifting Gear Direct, and many of our kits are provided with items such as safety harnesses.
Please carefully consider factors such as fall factors when purchasing or installing any lifting gear equipment. Fall factors are calculated by allowing for:
Double the length of the lanyard
+1.75m deceleration distance to allow for elongation of the shock absorber and any give in the lanyard.
+1m safety margin
TOTAL = 6.75m clearance required using a 2m lanyard.
You can read more on our height safety policy and
recommendations here
.
What type of lifting gear equipment do I need?
We stock a wide range of products, so we understand it may be difficult choosing the correct piece. If you are unsure what you need, please do get in
contact
with us and we will be able to recommend the appropriate piece of equipment depending on the task that you need completing.

Is your equipment certified?
Yes, all of our equipment is fully certified and tested before we allow it to be purchased.
How long does delivery take?
We will aim to deliver all products and equipment as soon as possible, although we cannot make any guarantees. You will be provided with a delivery estimate at the point of sale. Please read our
Terms and Conditions
and
Conditions of Purchase
for more information on our delivery policy.
Alternatively, you can collect your order from our warehouse; the address and a map of our location is listed here.
What is your returns policy?
You can view our
returns policy here
.

Where are you located?
We are located at:
Lifting Gear Direct Ltd
Units 16 & 17 The Wallows Industrial Estate
Fens Pool Avenue
Brierley Hill
DY5 1QA

What are floor cranes used for?
Floor cranes are some of the most useful cranes available on the market due to their lightweight, portable nature. However, with this lighter nature, it means that they have a smaller lifting load then many other cranes, typically between 500Kg and 2000Kg.
For this reason, floor cranes are commonly used in workshops or for the lifting and lowering of automotive engines. Because of this, you will also sometimes see floor cranes referred to as 'workshop cranes' or 'engine cranes'.

Are there any guidelines that should be followed when using lifting gear equipment?
Yes – due to the nature of the lifting gear industry, where you will be regularly lifting, lowering and suspending extremely heavy loads, some guidelines must be followed. Please see the Government's Lifting Operations and Lifting Equipment Regulations 1998
(LOLER) guidelines
for information on the planning, supervision, and operation of lifting gear equipment. Please note that these guidelines form
part of the law
that must be followed when it comes to lifting operations. We also offer
height safety
advice and
lifting gear inspections
to ensure that these guidelines and laws are adhered to.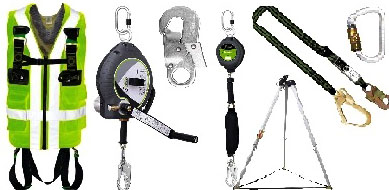 Please follow our height and safety rules; the above is not a safe way of working!


What is the definition of slewing?
In the mechanical industry, the term slewing refers to the movement of your crane's boom or jib arm in a horizontal motion, turning through its set radius.

What is the maximum slewing distance that your jib cranes can rotate?
We stock a variety of
jib cranes
, with column mounted, Demag, Donati, floor mounted, over braced, under braced and wall mounted jib cranes. Among our selection, the maximum rotation distance is 270 degrees. Though 360 degree jibs are available.

Do you sell forklifts?
No, we do not, but we sell plenty of
forklift attachments
. Please get in touch with us for more information on where you can acquire forklifts.

Do I need attachments with my cranes?
Yes – pieces of lifting gear equipment such as floor cranes and lifting gantries simply provide the framework to support the load that you want to lift and lower. You will need to purchase lifting gear attachments for the actual lifting of objects, and such attachments include items such as air hoists or
eyebolts
. Consider what the task is that you need to be completed, and choose the accessory accordingly. For example,
electric hoists
can operate automatically, but if you are working somewhere where there is a low power supply, then an accessory such as a
chain block
will be more suitable.
What is the difference between the lifting gantry products that you stock?
We stock three different types of
lifting gantries
, all suited to a different task. Our A-frame Gantry is a standard lifting gantry capable of lifting up to 5,000Kg, providing a high level of safety and control.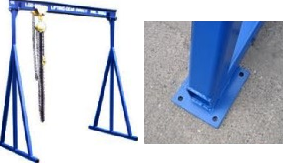 We stock a-frame gantries, mobile steel gantries, and aluminium gantries

Our mobile gantries and aluminium gantries are both portable pieces of lifting equipment, with wheels attached at the bottom for ease of movement around a worksite. The difference between these two is in their base metal. Our mobile gantries are constructed from steel, and so can lift up to 5000Kg, while our aluminium gantries are obviously comprised of aluminium. While this makes them lighter and easier to transport, it also means that they only have a maximum lifting load of 2000Kg.


What happens if I lift a greater load than the lifting capacity of a piece of equipment?
The lifting capacities that we have recommended are not guidelines to be followed, but strict maximum limits that you must not exceed or otherwise risk causing damage to yourself, others or the lifting gear that you are using. Also, lift loads with care and patience.

How can I accurately weigh the load that I want to lift?
We stock
crane scales
which can be used to accurately determine the load that you want to lift. We would recommend using a piece of equipment like this so as not to damage your equipment.
What is the difference between lifting equipment and material handling equipment?
Lifting equipment
is used solely to lift or lower loads. The way that this is done and the tools that are used can vary depending on the crane or accessory that is used.
Material handling equipment
, on the other hand, is used to transport goods from one location to another.
What are hoists used for?
Hoists and hoisting equipment
will be utilised with a crane, which will provide the framework for the lifting task. A hoist, quite simply, will lift an item up or down, as well as providing pull and tension where necessary.
We stock both electrically powered hoists and manual hoists.
What are crane and gantry systems used for?
Our
crane and gantry systems
are what provide the framework for a lifting task, being designed to handle the heavy weight of the task at hand. We sell a variety of cranes, some that can rotate a full 360 degrees, while others have wheels attached to the bottom for easy transportation.
We're here to help answer any questions that you may have about lifting gear or lifting equipment

What is hydraulic lifting equipment used for?
Hydraulic lifting equipment
is similar to a car jack, and can be used to lift up heavy loads.
What are clamps and beam attachments used for?
The clamps that we stock are
most often used in the construction industry
, and are useful for clamping onto loads that may have an unusual shape size.
Beam clamps, or beam attachments as they are also known, will be clamped onto a beam to help provide a firm anchor point which other forms of lifting gear or lifting accessories can then be attached to.
What lifting equipment do you sell?
Here at Lifting Gear Direct we have tried to cater to every need and every step of the process. We sell the cranes that provide the framework for lifting, accessories that conduct the actual lifting themselves, material handling equipment, restraints and attachments and clamps. Whatever your lifting need is, we can help.

What is the difference between a safe working load and working load limit?
The
working load limit
(WLL) is the maximum that a piece of lifting gear can lift before breaking. The safe working load (SWL), also called the normal working load (NWL), is the limit that you should be working with at all times, and will be well below the WLL.
Do you sell any other types of equipment?
Yes, we also sell
height safety equipment
too. While lifting equipment can be used to lift loads up to great heights, there may also be occasions when you find yourself working at heights too, and it is absolutely crucial that you have the right equipment to protect yourself.


We also sell useful accessories such as
load and force calculation equipment
, important for knowing exactly how heavy your equipment is. This will prevent any unnecessary breakages, damages or harm to those that are operating the equipment.
How should I protect my equipment?
As with any equipment, each piece will be stronger than others in certain areas, and it's important that you listen to the recommendations provided to you by your sales person. It's also important that you store your equipment in the right conditions, and that you regularly inspect it too.
Do you have more questions?
With over 50 different products on offer at Lifting Gear Direct, all performing slightly different functions, we understand if you have a few questions. If you need anything else answered, please just get in
contact with us here
.