Round Slings
Round slings can be used in a variety of hitches and benefit from being softer and therefore more gentle around loads. Made from tubular polyester with a high tensile fibre core these round slings are great for lifting more delicate items and with prices starting from £1.41 you can't go far wrong. Flat webbing slings are also available from our extensive collection of lifting slings.
Showing 1 to 8 of 8 (1 Pages)

Our round slings are colour coded for easy recognition of the safe working load. This echoes the convenient design of our flat web slings, which also embrace colour coding for the purposes of ease of use, as well as avoiding accidents.
Here is our short video on the use of round slings.
To find out more about the design features, benefits and customisation options that are associated with this range, read on. We also provide a table of technical data to dive deeper into the specifications. If you are still in need of help after scouring this page, please use our contact info below to call us so we can help.

Key Features of a Round Sling
Gentle contact on all surfaces. round slings

Inner core in high tensile polyester fibre.

Continuously wound with no joins.

Core protected via a tough, woven polyester tubular sleeve.

Low elongation.

Extremely wear resistant.

Suitable for use in all common of hitch types

SWL vary from 500kg up to 100 tonnes.

Overview of Round Slings
Before we get into the specific performance potential of our round sling range, it is worth talking a little about the way that they are designed and the benefits that this brings to the table.

The rounded nature of these lifting slings means that they stand out from our similarly effective flat web slings in terms of versatility and gentleness. The surface of the sling will be less likely to abrade any other surface it comes into contact with, even when under heavy load. This also means that it is better equipped for use in conjunction with fragile or irregular loads, going above and beyond to get the job done.

Perks of Polyester
The polyester sleeve that forms the outer layer of these round slings is super durable in its own right, boasting the ability to work well in a variety of environments. Moisture and UV resistance are central to the appeal of this synthetic material, which is why it is also used in some of our fibre rope sling assemblies as well.

The toughness of the polyester augments the usefulness of these slings in the long term. Where one way slings might only be used once, these heavy duty products can be put into operation again and again without being compromised by the repeated use.

Because the polyester is so tough, it is also not susceptible to stretching or warping through use. It should retain its original shape and stability, so as long as you stick within the parameters that are advertised in terms of load limits, it will be almost invulnerable.

Round Sling Colour Coding & Load Limits
Even if you are not familiar with the colour coding system used to distinguish each round sling from its stable mates, you should be able to learn the ropes quite quickly once you start using it. At the bottom sit black slings, which are rated for loads of around 400-500kg. At the top the orange sling is king, with SWLs of anywhere between 8 tonnes and 100 tonnes.

The differences in load limits are not just based on the size and colour coding of the sling itself, but also the configuration it adopts. This is something you will need to be responsible for when setting up your lifting assembly.

Choosing the right Lifting Straps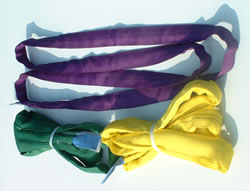 Round slings are a good option for some lifting operations, but not for others. Determining which type of sling you need relies on understanding the ins and outs of each product.

For example, our chain slings are particularly strong and durable, allowing them to haul the heaviest loads while offering compatibility with a range of attachment types. We even have pump lifting chains and stainless steel chains and components. This allows you to make an even more specific choice of lifting sling, if necessary.

Looking for other types of Lifting Gear?
Never fear, as our site is your gateway to equipment, attachments and apparatus for lifting operations of every size and shape.

Do you desire a high quality wire rope winch? We stock electric, pneumatic and manual examples from top brands. Are you in the market for a minutely customisable crane or gantry system? We can build lifting gantries from the ground up as well as jib cranes with a range of load limits and mounting options included.

One final advantage of shopping with us is the ability to select specific brands and browse product line up all in one place. If you are a fan of a specific manufacturer, or are looking for an official component, it is easy on our site.

Ask our Expert Advice
At Lifting Gear Direct we have a wealth of talented specialists who are always happy to help out any customers who have questions about our products. You can contact them by emailing from our site or calling 01384 76961. We aim to respond as quickly and accurately as possible, no matter your question or individual requirements. Drop us a line today and we can take it from there.