Long Shank Dynamo Eye Bolts Metric Thread
When you choose a dynamo eye bolt, it will typically be used the shoulder loads axially, making it much easier to use lifting equipment to manoeuvre materials or objects that are excessively hefty for manual handling purposes.

Our metric thread dynamo eye bolts with a longer shank sit in an all-encompassing array of similar accessories. If you need anchor points like this, Lifting Gear Direct is the perfect partner to provide them.
Prioritising the Perks of the Long Shank Dynamo Eye Bolts Metric Thread
The metric thread form found on these long shank dynamo eye bolts is part of a global standard that has been established for over half a century. Its profile is perfect for various uses, and you can find the full low-down on its dimensions and specs in the table below.
Safe working loads vary across the range, beginning at just 150kg and rising to 2 tonnes. These parts, like many of our lifting products, are all covered by the manufacturer's Declaration of Conformity, so you can rely on them to be safe and stable, meeting the standards expected in various key areas.
Checking out the Competition
In addition to our metric thread long shank dynamo eye bolts, you can buy BSW thread units from LGD. These offer slightly higher load capacities, while still sharing the same properties in terms of design, materials and dimensions.
Peel back the surface of our accessory range and you will encounter an even more impressive array of products. For angular load bearing our collared eyebolts with reevable egg links are a top option. For even greater flexibility and versatility, our swivel eye bolts will do the trick. For super-heavy loads, our shackles will be an excellent companion. And then there are the handling machines themselves, including hoists, winches and every conceivable alternative.
Call or Email for Eyebolt Advice
Bring our team onboard to help with any lifting kit problem you need to overcome. Call 01384 76961 and speak with a specialist to get more details about eyebolts, ask for a quote or place an order. Email us using our contact form to get the same great service even when you do not have time to use the phone. We will reply quickly with all the information you need.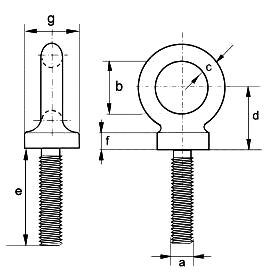 | | | | | | | | | |
| --- | --- | --- | --- | --- | --- | --- | --- | --- |
| Safe Working Load | Diameter Thread | Diameter Eye Inside | Diameter Eye | Length Base to Centre | Thread Length | Base Height | Diameter Base | Weight Each |
| tonnes | a mm | b mm | c mm | d mm | e mm | f mm | g mm | kg |
| 0.15 | 8 | 22 | 9.5 | 27 | 100 | 6 | 19 | 0.11 |
| 0.25 | 10 | 22 | 9.5 | 27 | 100 | 6 | 19 | 0.12 |
| 0.32 | 12 | 29 | 11 | 35 | 100 | 8 | 25 | 0.17 |
| 0.63 | 16 | 32 | 13 | 41 | 114 | 9.5 | 29 | 0.35 |
| 1.25 | 20 | 41 | 16 | 54 | 127 | 11 | 35 | 0.6 |
| 2 | 24 | 51 | 19 | 64 | 127 | 13 | 41 | 1.1 |