Long Shank Dynamo Eye Bolt Whitworth Thread
When you need to lift a heavy object and want to avoid handling it manually, an eyebolt can be a great help. This long shank dynamo eyebolt comes with a BSW thread, meeting standards established during the final years of the industrial revolution.

Call 01384 76961 for price.
The fact that the standard is still in use today shows just how effective and impactful it has proven itself to be over the centuries. Check out our metric thread long shank dynamo eyebolts for a more modern alternative not based on imperial measurements.
In-Depth Details of the Long Shank Dynamo Eye Bolt Whitworth Thread
Finding out more about this eyebolt is straightforward, as we have provided a table of technical data a little lower down for your perusal. More generally, the longer shank and sturdy build allows this Whitworth model to cope safely with loads of 100kg to 3.5 tonnes. This makes it slightly more versatile than its metric thread counterpart.
You can also find the dimensions and unit weights of each bolt right here, or use our contact info to ask for extra help choosing if you are still unsure.
A Spectrum of Options
When it comes to lifting accessories, you will find that your choices are far from limited when you shop with Lifting Gear Direct. In fact our site is teeming with tempting options, from collared eyebolts to lifting shackles of all shapes and sizes.
Of course you might also need lifting equipment to go along with your loose tackle, in which case our hoists, cranes, slings and winches might pique your interest.
We produce assemblies in-house and also supply products from the leading brands in the lifting industry, including Yale and Demag. All you need to do is work out which kit and parts to buy and then place an order with us.
Contacting the LGD Experts
Just as our line up of lifting gear is expansive, you also have plenty of options available to you when the time to get in touch with LGD arrives. Head to our contact page where you can email us direct, or call 01384 76961 to have a chat with our team. We will work tirelessly to make sure that you are satisfied when you buy with us, whatever your needs or budget.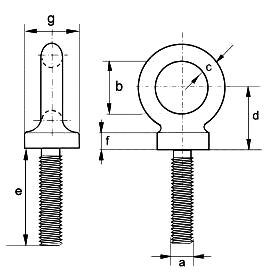 | | | | | | | | | |
| --- | --- | --- | --- | --- | --- | --- | --- | --- |
| Safe Working Load | Diameter Thread | Diameter Eye Inside | Diameter Eye | Length Base to Centre | Thread Length | Base Height | Diameter Base | Weight Each |
| tonnes | a inch | b inch | c inch | d inch | e inch | f inch | g inch | kg |
| 0.25 | 3/8 | 7/8 | 3/8 | 1.1/16 | 4 | 1/4 | 3/4 | 0.09 |
| 0.5 | 1/2 | 1.1/16 | 7/16 | 1.3/8 | 4 | 5/16 | 1 | 0.14 |
| 0.8 | 5/8 | 1.1/4 | 1/2 | 1.5/8 | 4.1/2 | 3/8 | 1.1/8 | 0.24 |
| 1.2 | 3/4 | 1.9/16 | 11/16 | 2.1/8 | 5 | 1/2 | 1.7/16 | 0.43 |
| 2.2 | 1 | 2 | 13/16 | 2.7/16 | 5 | 1/2 | 1.5/8 | 0.88 |