Long Shank Collared Eye Bolt with Reevable Egg Link - Whitworth
A standard collared eye bolt is naturally capable of tackling angular loads, but sometimes you need that extra assistance, depending on the nature of the attachment.

Brand::

Lifting Gear Direct (LGD)

Product Code:

Long Shank Collared Eye Bolt with Reevable Egg Link - Whitworth

Availability:

In Stock
Call 01384 76961 for price.
That is where our Whitworth thread long shank collared eye bolt with reevable egg links comes into its own. Not only does the lengthened shank unlock more options for deployment, but the included link will make life easier if you are creating a particularly complex assembly.
Making the most of this Long Shank Collared Eye Bolt with Reevable Egg Link - Whitworth Thread
Like many of our other lifting accessories and loose tackle types, a long shank eyebolt with a reevable egg link and the aforementioned BSW thread is best used in combination with compatible parts and components. You should also keep an eye on the load limits that each bolt is rated to provide. This varies wildly throughout the range, so to ensure safety it is vital to stay on top of the relevant details when making a decision about which bolt to buy.
Load limits tend to drop off when angular load-bearing is taken into account. It is generally better to over-compensate and ensure complete security and stability, rather than taking a risk and veering close to the line in terms of safe loads, whatever type of lifting equipment you use.
Broadening your Lifting Horizons
At Lifting Gear Direct you can load up on kit of all kinds to help with lifting tasks large and small. We stock snatch blocks and sheave blocks, wire rope products, crane and gantry systems and a multitude of other assemblies and equipment. If you are looking for metric thread long shank collared eye bolts with an reevable egg link added, these are available as well. Basically you should be able to find what you are looking for on our site.
Getting in touch
When a product you encounter raises a question, or you want to get a quote for an eye bolt or other lifting accessory order, give the LGD team a ring on 01384 76961. They can provide advice and handle any problems you might be facing. Rattle off a quick email via our site if the phone is not a convenient way to get in touch with us.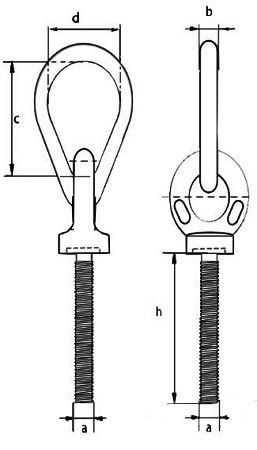 | | | | | | | |
| --- | --- | --- | --- | --- | --- | --- |
| Safe Working Load | Diameter Thread | Diameter Link | Length Link Inside | Width Link Inside | Thread Length | Weight |
| tonnes | a inch | b inch | c inch | d inch | h inch | kg |
| 0.25 | 3/8 | 7/16 | 2.3/4 | 1.3/8 | 7 | 0.33 |
| 0.5 | ½ | 7/16 | 2.3/4 | 1.3/8 | 7 | 0.54 |
| 0.9 | 5/8 | 5/8 | 4 | 2 | 7 | 1.17 |
| 1.4 | ¾ | ¾ | 4.3/4 | 2.1/4 | 7 | 1.89 |
| 2 | 7/8 | 7/8 | 5.3/8 | 2.5/8 | 7 | 2.96 |