Collared Reevable Egg Link Eye Bolt - BSW Whitworth Thread
The result is that the already impressive angular load-handling potential of the bolt itself is expanded further. What is more, the link lets it accommodate a range of attachments, anchoring them effectively for whatever purposes you have in mind.
Basic Abilities of the Collared Reevable Egg Link Eye Bolt - BSW Whitworth Thread
The Whitworth thread collared eye bolt with a reevable egg link included is not a single product, but rather consists of several fundamentally similar units which are distinguished from one another by their dimensions and load limits. This bolt is actually slightly sturdier than its metric thread counterpart. As such it provides between 250kg and 2.75 tonnes of handling might, while actually being fractionally lighter in its own right.
To delve into the details even further, scroll down to the table of technical data on this range, which should answer any immediate questions you might have. If you are still uncertain, our contact details below will let you get in touch and ask us for any clarifications.
Eyebolts & other Lifting Equipment
Our eyebolts are not limited to the collared design; you can easily pick up BSW thread dynamo eyebolts, varied eye nuts and a bounty of other anchor points. These fittings are a core component of many construction projects, lifting assemblies and other practical initiatives, combining bold design ideas with practical functions.
Expand your horizons even further with our full lifting accessory and loose tackle family, which includes swivel eye bolts, snatch blocks and lots more products to pick. If you need lifting equipment like hoists or cranes, you can also encounter them in abundance on our site.
Our contact info
As we mentioned earlier, the simplest answer to your lifting gear question can always be accessed when you get in touch with our team. Either email an expert by taking advantage of our rapid response form, or ring LGD today on 01384 76961 where our sales staff will be able to deal with your query and provide a quote for eyebolts and more. Our efficient, friendly specialists are always ready to help out.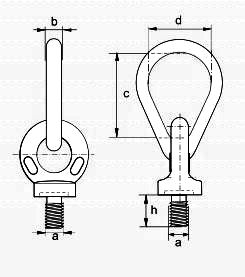 | | | | | | | |
| --- | --- | --- | --- | --- | --- | --- |
| Safe Working Load | Diameter Thread | Diameter Link | Length Link Inside | Width Link Inside | Thread Length | Weight |
| tonnes | a inch | b inch | c inch | d inch | h inch | kg |
| 0.25 | 3/8 | 7/16 | 2.3/4 | 1.3/8 | 18 | 0.21 |
| 0.5 | 1/2 | 7/16 | 2.3/4 | 1.3/8 | 23 | 0.29 |
| 0.9 | 5/8 | 5/8 | 4 | 2 | 28 | 0.73 |
| 1.4 | 3/4 | 3/4 | 4.3/4 | 2.1/4 | 35 | 1.19 |
| 2.75 | 1 | 7/8 | 5.3/8 | 2.5/8 | 40 | 2.65 |