Collared Eye Bolt with Reevable Egg Link - Metric
Its name may seem a little odd written down, but if you take a look at the reevable egg link that is added to this metric thread collared eye bolt, its shape will provide all the context you need to avoid confusion.

The link lets angular loads exert force on the bolt with minimal hassle. We also stock BSW thread collared eye bolts with reevable egg links if metric thread is not appropriate.
Facts & Figures for the Collared Eye Bolt with Reevable Egg Link - Metric
Full, rigorous testing of our eye bolts means that you can rely on them to live up to expectations in terms of load capacities and lifting safety. In the case of the metric thread collared eye bolt with reevable egg link, there are a number of options available when it comes to load limit. For heavier jobs where greater forces are involved, the 2.5 tonne SWL of the largest unit will be suitable. For lighter work, the 150kg capacity of the smallest will be adequate.
Check out the table of technical data to see just how varied this range is. It also includes useful details on the dimensions of each eyebolt, which can help you clarify whether there is a suitable product amongst our line up.
Further Accessory Options
Lifting accessories and loose tackle are in plentiful supply here at Lifting Gear Direct. Metric thread compatibility might be an issue, in which case our UNC thread collared eyebolts could spark your interest. Angular load potential may be irrelevant, which may make the rest of our eyebolt range more appealing.
If you have specific heavy-duty lifting tasks to tackle, our lifting shackles will hold the key to efficient, safe material handling. If you want to take control of loads manually, our gin wheels and pulleys will reduce the effort needed to achieve your goals.
Get your questions answered
There is almost nothing lifting equipment-related that you cannot find on our site, but if you are looking for something that you cannot find, or you need to know more about our eyebolts or other products, please get in touch. The LGD team can be reached by emailing from our site or calling 01384 76961. Whatever your question or requirement, we can answer it ASAP.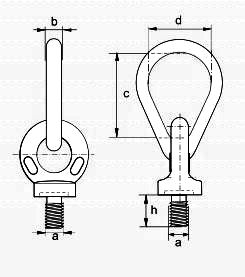 | | | | | | | |
| --- | --- | --- | --- | --- | --- | --- |
| Safe Working Load | Diameter Thread | Diameter Link | Length Link Inside | Width Link Inside | Thread Length | Weight |
| tonnes | a mm | b mm | c mm | d mm | h mm | kg |
| 0.15 | 8 | 11 | 70 | 35 | 18 | 0.22 |
| 0.25 | 10 | 11 | 70 | 35 | 18 | 0.22 |
| 0.4 | 12 | 11 | 70 | 35 | 18 | 0.23 |
| 0.8 | 16 | 16 | 100 | 50 | 23 | 0.62 |
| 1.6 | 20 | 19 | 120 | 55 | 32 | 1.17 |
| 2.5 | 24 | 25 | 152 | 76 | 40 | 2.66 |