Lifting Shackles
What are lifting Shackles?
Lifting Shackles are metal connection links that are used to connect loads you want to lift and a lifting system such as a Hoist or Crane. The most common lifting shackles are Bow Shackles and D Shackles that are used for different applications.
We also offer an excellent range of specialist shackles for more diverse lifting applications including piling, ROV, Polar, Trawling, wide mouth and fixed nut shackles, take a look at our specialist shackle category where you will find much more detail.
Refine Search


Common Types of Lifting Shackle
Bow Shackle
Lifting Shackles
D Shackles
Chain Shackle
Specialist Shackles
Stainless Steel Shackles
Here is a short video showing some of the most popular types of shackles.
LGD are also able to supply lifting shackles from the big brand names such as Kuplex, Yoke, Gunnebo, Cartec and more; if you wish to view these shackles then simply use the shop by brand category or search function, where you will find full details on each product.

Applications for using Lifting Shackles
Shackles can be used in lifting and static systems as a removable link to connect wire rope, chain and slings. The differing types of shackles are best used for different applications.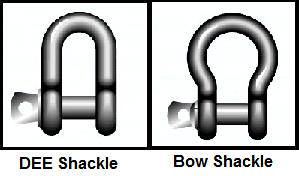 Safety bolt shackles
Also known as Green Pin shackles, these are commonly used for either permanent or more long term lifting operations or sometimes in instances where the load and sling may slip against the pin which may cause it to rotate and subsequently fall out. These types of shackles are extra secure due to the bolt and cotter pin design. This system also removes the need for tightening the pin prior to each use.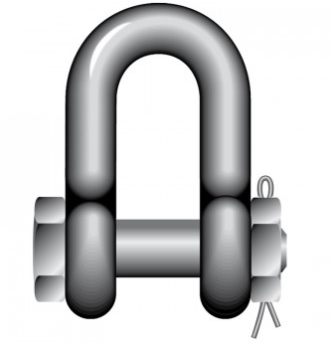 Safety bolt shackle with cotter pin. Some shackles are available to comply with British standards, these have a safety pin with a cotter pin which goes through the nut, therefore providing the upmost safety.

At LGD we take safety seriously, so we believe that features like this are useful for our customers as well. If you have any questions about lifting operations and the safety issues you face, use our contact details below to get in touch and we can give you the guidance you need.

Screw pin shackles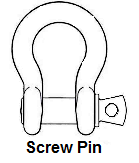 These are mainly used for non permanent applications, where the shackle needs to be removed regularly. Screw pin shackles can also be used for side loading applications with a reduced safe working load. With these types of shackle it is necessary to check and re-tighten the pin prior to each and every lift. If screw pin shackles are to be used for longer term lifting applications (not recommended – it is better to use a bolt type instead), or for applications where there is high vibration activity.

Shackle mousing
Vibrations could cause loosening of the pin, then a mousing technique can and should be used. Mousing is the process which describes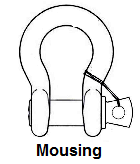 the securing of the pin, this is done by the use of annealed iron wire which is threaded multiple times through the hole in the pin and passed around the body of the shackle, twisting the ends to secure. This process prevents the pin from un-screwing.

Round pin shackles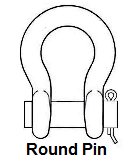 These are secured with a split pin and are for strictly in-line loading only. They are ideal for use in any straight lift, towing, suspending or tie-down operation. NEVER side load a round pin shackle.

Dee shackles are most commonly used on single leg slings and bow shackles are most commonly used on multiple leg slings.

Picking the right shackle for the job is vital and our well stocked site is the best place to find the lifting gear you are looking for.

Special shackles
While some of the lifting shackles we stock are made for a multitude of purposes, they may not be unique enough in their design if you have a particular application in mind. That is where our special shackle line up comes into play. Both bow shackle and D shackle designs are available within this range, along with extra adaptations that are attuned to specific use cases.

Take our piling shackles, for example. These are effectively an extension of the D shackle design, but with a greater length to help them act as anchor points within a piling sheet assembly. The length of the shackle can hit 305mm at a maximum, while the working load limit of 5 tonnes on the sturdiest member of this range will give you peace of mind about performance potential.

Combining a bow shackle or a d shackle with a sling is a common practice in many industries. If you are concerned about maintaining the integrity of the sling material itself, then one of our special sling saver shackles could be a perfect pairing. These adopt a bow shackle design, but create a flat surface which spreads the weight of the load more evenly across the surface of the webbing and thus leads to lower levels of wear and tear over time.

Special shackles like this are subjected to rigorous testing, including proof loading, so you can be certain of their ability to remain stable, safe and in line with manufacturer specifications. In the case of our sling saver shackles, capacities top out at around 50 tonnes, which is more than enough for many lifting duties.


Connecting Slings with a Shackle
If shackles are to be used in slinging operations there are certain points to take note of; you must ensure that the sling is seated in the body/bowl of the shackle, never on its pin. When using a shackle together with a wire rope lifting sling you should ensure that the shackle's diameter is larger than the diameter of the wire rope if it is not terminated with a thimble.

If you are to use a shackle with a webbing sling you must ensure that the bowl is wide enough for the sling to sit flat, there should be no bunching/gathering up of the sling inside the shackle, this will affect the load rating of the sling.

If using a shackle for a choker hitch, the end rope eye should seat on the pin and the bowl / loading point is where the shackle is hooked back to create the choke hitch.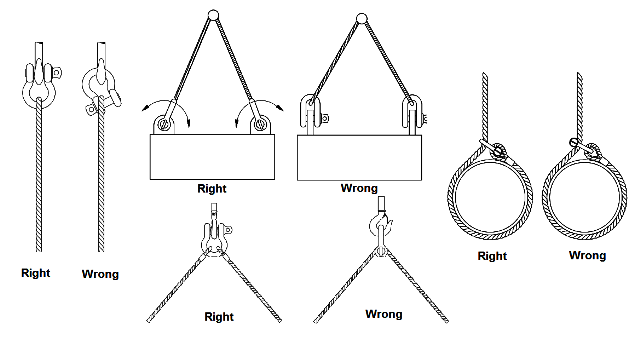 Certification
The load-rated lifting shackles we stock, including our Small Dee and Small Bow shackles, are fully tested and can be supplied with test certificate, and/or EC declaration of conformity if requested; other certification may be available on request. Certification helps to guarantee reliability and safety. Moreover, we only provide quality products.

You will find that all of the lifting gear we stock adheres to the same high standards, meeting domestic and international expectations in terms of quality and safety. From our hoisting equipment to our material handling kit, you can have complete confidence when buying from LGD. We even stock ATEX-rated products for use in specialised environments. Even our own-brand jib cranes are able to offer outstanding quality and attention to detail in their construction.

Our range of shackles
Our range of lifting shackles offer safe working load limits ranging up to 55 tonnes. However, if you require a higher working load limit, please get in touch, as we are able to source suppliers with greater limits.

Taking the WLL into account is crucial when selecting any piece of lifting equipment, as you cannot afford to ignore the importance of safety, regardless of the industry you occupy. Also remember that you need to stay abreast of the latest industry news and regulations, as getting caught off guard by changes to the rules is no excuse for breaking them.

Product information for our full range can be viewed easily online, detailing dimensions, working load limits and more. In addition, further information can be obtained using our rapid enquiry form. So if you require quality, dependable shackles, take advantage of our competitive prices and knowledgeable staff and contact us today!



Other lifting equipment and accessory options
Bow shackle and D shackle products are just part of what we offer on our site. You can also encounter a full range of lifting accessories and loose tackle that will be a tantalising, cost-effective solution to your load handling issues. We stock eye bolts, snatch blocks, swivel eye bolts, gin wheels and lots of other high quality components that are always worth considering.

If you need lifting slings to combine with your shackle of choice, these are also offered in a large number of configurations by LGD. Pick up fibre rope slings, opt for flat web slings or invest in wear-resistant round slings and see what a difference these can make to productivity and safety.

For further durability and strength, take a look at our wire rope product line up, which can go a long way to enhancing the abilities that are innate to a bow shackle or D shackle that you snap up. We have a bounty of wire rope fittings to go along with lengths of the rope itself, so you can customise your order and get exactly what you need to go with the lifting equipment you already have in place. Meanwhile our family of electric hoists and the bespoke jib cranes we make in-house will offer up even more choice no matter the sector you occupy or the loads you need to shift.

Get in touch today
Browse our full selection of lifting shackles below for full technical details and call our team on 01384 76961 to discuss any particularly specific requirements.

You can also fill out our online enquiry form to ask us a question. There is no better way to get expert advice on lifting gear of all types.