Specialist Shackles
In order to serve a wider range of customers and industries, special shackles Lifting Gear Direct have extended their standard shackle range to include a range of specialist shackles which have been designed for specific purposes; this makes them much more suitable for specialist operations than standard lifting shackles. We are now able to supply high quality green pin trawling shackles, piling shackles, special sling shackles, sling saver shackles, wide mouth shackles and ROV shackles in dee and/or bow types and in a vast array of working load limits and sizes.
Showing 1 to 7 of 7 (1 Pages)


For more information on each of our special shackles please go their respective product page where you will find more details, technical specifications and dimensional drawings.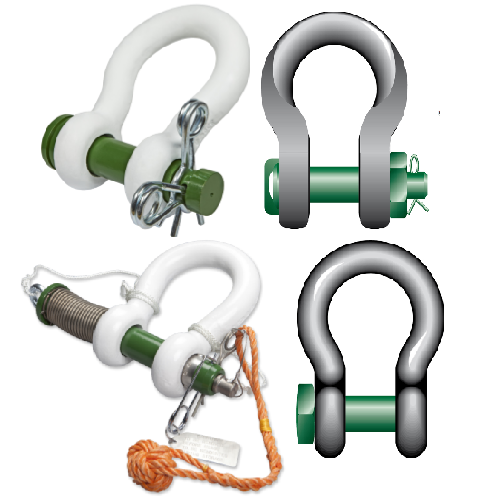 Specialist Shackles Available From Lifting Gear Direct
Piling Shackles
Piling Shackles
are mainly used on construction sites, they are used to attach and position piling sheets ready for piling deep into the ground. They have standard type screw pins and come in a range of working load limits up to 5 tonnes.
With a self coloured finish, they are comparatively inexpensive and moderately durable, without managing to match coated shackles in terms of their longevity.
Trawling Shackles
Trawling shackles are used within the fishing industry and are designed for use in marine environments. These special shackles are commonly used on trawl doors and for attaching trawling nets to the winching device. They are also used for securing otter boards and bridle systems in
demersal trawling
and twin rig bottom trawling operations, as well as connecting dredging equipment. These shackles are available in WLL up to 25 tonnes.
There are two types of specialised trawling shackles on our site. First up are the
green pin trawling bow shackles
, which can accept loads for several angles. Next are the
green pin trawling dee shackles
, which are suite to inline load bearing.
Sling Shackles
Sling Shackles
are specially shaped to expand the contact area, their bow shape is gently bevelled to provide a greater bearing surface for a soft sling and therefore greatly reduces wear on the sling. These shackles are ideal for use with round slings and are available in a vast range of lifting capacities, up to a massive 1500 tonnes, and have a safety bolt with split pin.
The design and materials used in the construction of these shackles allows them to withstand extreme temperatures at either end of the spectrum, anywhere from minus 20 Celsius up to 200 Celsius. They are not specifically
ATEX rated
, so keep this in mind if you are looking to conduct lifting operations in explosive environments.

Sling Saver Shackles
Sling Saver Shackles
are perfect for using with flat webbing slings because they have an increased bow radius and flatter sling bearing surface which will help to lengthen the lifespan of your flat web slings. These are available in both screw pin and safety bolt types in working load limits up to 50 tonne.
Like all of our high quality shackles, these specialised sling saver units are tested to meet the relevant
industry standards
and supplied at a competitive price. You can find the full specifications of the range by visiting the product page, or by using the contact details supplied below to talk to our team today.
Wide Mouth Lifting Shackles
Wide mouth lifting shackles
have a much wider mouth opening to enable the fitting of much larger profiles. Our range includes working load limits up to 75 tonne and mouth width up to 184mm. These green pin units meet the stringent safety and quality standards that are important in a number of industries. They also come with a hot dipped galvanised finish which makes them resistant to corrosion and abrasions.
ROV Shackles
ROV shackles
have been specially designed to use with ROV's and are suitable for use in marine environments. Standard shackles prove very difficult to attach and remove during sub-sea lifting operations; these highly specialised shackles are designed so that the ROV (remotely operated vehicle) can attach and detach the shackle. We have three types available; spring pin, locking clamp and spring loaded models.
All ROV shackles have the shank finished in a bright white coating to enable good visibility of the shackle when it is used in poor light conditions; the pins are the usual green. This shows the quality and consistency that you can expect when you buy this type of shackle.
Ordering Special Shackles
If you need any more information, advice or a simple quote then you can give our sales team a call on 01384 76961 or use the
contact us page
or rapid enquiry form.