Fibre Rope Slings
Our fibre rope slings benefit from our bespoke in house manufacturing and hand splicing expertise. Natural fibre rope & man-made fibre rope slings are available. As with all of the lifting sling varieties on our site, you have full control over the specifications of the fibre rope sling you order. From the length and materials to the attachments and add-ones, the choice is yours.
Take a look at the different sling options we provide our customers, then when you are ready to place an order just get in touch via the contact details below.

Basic Fibre Rope Sling Features & Benefits
Synthetic or natural ropes available. Polypropylene, nylon, sisal and Manila.

Available in 5 basic sling types: single leg with eye splice at each end; 2 leg endless type with master link; 3 leg or 4 leg with master links.

End termination options: hooks, rings, shackles or eyes.

Labelled with SWL, diameter, serial number and date of manufacture.

Pros & Cons of Fibre Rope Materials
Perhaps the most important aspect of any fibre rope sling is the material from which it is made. As already covered above, you can opt for either a natural fibre rope, or for a synthetic fibre.

Polyester Rope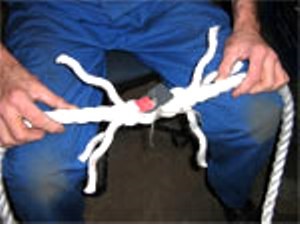 Polyester is a popular synthetic option, since it is super-strong and does not suffer any ill effects or compromised capabilities if it is moistened or completely soaked with water.
Its resistance to other liquids, including oils and chemicals, is also high. It will not rot or develop mould, nor will it weather if left out in direct sunlight for long periods.

The main downside is that polyester does not have much flex or stretch, meaning it should not be subjected to sudden snap loading, as it is more likely to suffer damage or snap in such a scenario.
Polypropylene Rope
As the second synthetic fibre of choice, polypropylene has similar moisture and chemical resistant properties to polyester. It has the added advantage of being light, moderately stretchable and easier to twist and flex during use or for the purposes of storage. It is no especially adept at withstanding ultraviolet rays by default, but it can be treated to increase its resilience if necessary.

Another perk is that it is fairly buoyant and will float on bodies of water without contracting, hence its popularity in maritime industries and leisure use.

Nylon Rope
Nylon can be fashioned into fibre rope slings with very thin diameters. Combined with its mild stretchiness and innate strength, it is a very versatile solution for making a number of lifting products. It will not be brought low by exposure to chemicals, or give up the ghost if UV light hits it during outdoor use.

Sisal Rope
Choosing this natural fibre rope for a sling will be a good idea if you value its ability to stretch and take loads that are applied swiftly in a snap. Sisal is also capable of coping admirably in briny conditions, so for seafaring use it is well respected. The biggest problem with natural fibres is that they tend to degrade faster than their man-made equivalents, which can instead last for decades without faltering in the face of environmental hazards. In spite of this, sisal is still a worthy option for fibre rope sling construction.

Manila Rope
The durability and salt water-resistant properties of manila rope put it in the same category as sisal rope. The main thing to bear in mind is that the fibres will actually contract and cause the rope to shrink in size when they get wet. Not every lifting application will benefit from such a factor, so keep this in mind when you are deciding which type of rope to order.

Attachments & more options
If you had not noticed already, we stock more than just lifting slings on our site. With a massive range of lifting accessories available, it is no surprise that you can specify a custom fibre rope sling complete with whatever end termination type you require. Just let us know what you are looking for and we can get our experts to fashion a sling that has everything you need and more. It will also be fully labelled so that things like the working load limit are displayed conspicuously to avoid confusion.

Other sling types are also available to order in whatever configuration you need. From flat web slings and single use slings to stainless steel lifting chains and wear sleeves for existing slings, we have all that you might want to complete safe lifting operations effectively.


Get more information & place an order
Buying from Lifting Gear Direct is exceedingly straightforward. You can get a quote when you call our sales team on 01384 76961. If you would rather email us, our contact page is the best place to do it. Simply enter your details and we will get back to you as soon as possible, answering any questions you might have with our expert feedback and advice.
There are no products to list in this category.