Long Shank Collared Eye Bolt Whitworth Thread
Our long shank collared eye bolt range is also available with a BSW thread, spanning several size categories and load limits to give you an optimal degree of choice.

Call 01384 76961 for price.
We also stock metric thread counterparts, as well as examples with a reevable egg link added at the manufacturing stage. Anchor points like this are important in a plethora of situations, allowing ropes and other lifting equipment to be attached, even at an angle. Find out more about this range right here.
Load Limits & Dimensions of the Long Shank Collared Eye Bolt Whitworth Thread
You can get a complete look at the specs of our Whitworth thread long shank collared eye bolts thanks to the table further down this page. In short, the smallest has a 250kg safe working load limit, while the most sizable can easily cope with 4.5 tonnes. The collared design makes angular load bearing straightforward, so you might find this type of eye bolt is useful whether for industrial, commercial or domestic use across a number of prospective projects.
Lots of Choice for eye bolts
You will encounter a world of lifting accessories and loose tackle here at Lifting Gear Direct. We provide eye bolts, eyenuts and bownuts of many common kinds, putting you in the driving seat when it comes to seeking out the ideal product. If you need wire rope to go along with our anchor points, we can create bespoke assemblies that you will not find elsewhere.
We also take safety seriously, which is why we always want to remind our customers about the importance of adhering to load limits and industry regulations on the use of lifting equipment. This is relevant even if you intend to handle the lightest loads with our smallest collared eye bolts, so always check carefully and ask us for assistance if you are unsure at any point.
Linking up with us
The last thing we want to happen is for you to find our Whitworth thread long shank collared eye bolt page, only to get overloaded with info and overwhelmed by the options that are available. To clear things up and forge ahead with a better understanding of these products, please call our team on 01384 76961. You can also email questions to us direct, with quick replies assured.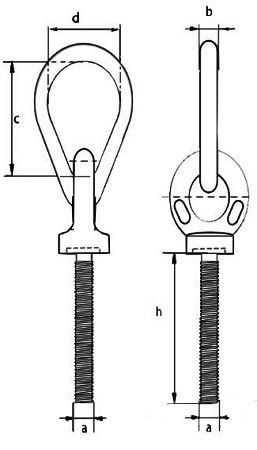 | | | | | | | | | |
| --- | --- | --- | --- | --- | --- | --- | --- | --- |
| Safe Working Load | Diameter Thread | Diameter Base | Diameter Eye Outside | Diameter Eye Inside | Thickness Collar | Height | Thread Length | Weight Each |
| tonnes | a inch | b inch | c inch | e inch | f inch | g inch | h inch | kg |
| 0.25 | 3/8 | 27/32 | 1.5/16 | 9/16 | 9/32 | 1.3/8 | 7 | 0.18 |
| 0.5 | 1/2 | 1.1/8 | 1.5/8 | 3/4 | 3/8 | 1.3/4 | 7 | 0.25 |
| 0.9 | 5/8 | 1.13/32 | 2 | 15/16 | 15/32 | 2.1/4 | 7 | 0.44 |
| 1.4 | 3/4 | 1.11/16 | 2.7/16 | 1.1/8 | 9/16 | 2.3/4 | 7 | 0.7 |
| 2 | 7/8 | 1.31/32 | 2.13/16 | 1.5/16 | 21/32 | 2.7/8 | 7 | 1.05 |
| 2.75 | 1 | 2.1/4 | 3.1/4 | 1.1/2 | 3/4 | 3.7/16 | 7 | 1.5 |
| 3.5 | 1.1/8 | 2.13/16 | 4.1/8 | 1.7/8 | 15/16 | 4.1/2 | 7 | 2.8 |
| 4.5 | 1.1/4 | 2.13/16 | 4.1/8 | 1.7/8 | 15/16 | 4.1/2 | 7 | 2.9 |