Cam Buckles
A simple cam buckle for securing webbing straps are ideal for securing smaller items and are commonly seen in commercial vehicles as well as camper vans with pop up roofs. Cam straps are simple in design and are very easy to use as a load restraint; we can supply them in a range of sizes to suit a range of webbing strap widths which are also available in any length required.

Cam Buckle Straps
Cam buckle straps are simple
load restraints
that are incredibly easy to use, one end of the webbing is usually already fixed to the cam buckle, the free end simply passes through the buckle where it can be pulled through to the desired tension around your load and the buckle fitting will grab the webbing and hold it securely in place.
To release the webbing you simply push the wedge away from the web strap and pull it back through.
Custom Cam Buckle Lashings
Our cam buckle lashings are incredibly strong thanks to being made from high tenacity polyester webbing. It has good resistance to UV rays, mildew, moisture and some chemicals.
We have a range of sizes to choose from in both the cam buckle and webbing straps.
Cam buckles come in a range of sizes to work with different widths of webbing. Lifting Gear Direct can produce a cam buckle lashings to suit your needs, whatever size or length you require our machinists can make them up for you. Whether you need just one or two or many multiples we can help.
Cam buckles are typically available with safe working load ranges from 250kg up to 750kg are are compliant with the necessary regulations. All products are labelled with all the necessary information for easy identification.
We have a range of sizes to choose from in both the cam buckle and webbing straps.
Cam buckle assemblies are available in any length.

Various capacities for loads up to 750kg.

Custom made to your requirements.
Other Cargo Restraints
We have quite an extensive range of cargo restraints to choose from if a cam buckle is not quite right for you. We have ratchet lashings which also use webbing though with a ratcheting buckle. Our ratchet load binders however use chains as a means of holding the cargo. These options with the ratcheting system makes it much easier to get a really tight grip on your load with minimal effort. LGD can also supply 3 strand poly rope for multiple uses including tie down operations. This makes a useful lorry rope. Whatever your lashing requirements are, our team can help. Remember we also supply many other types of loose tackle, such as shackles and eye bolts. Wire rope winches and cable pullers can also be used to secure and pull loads, though not necessarily on a lorry.
Getting in Touch
Help and advice is always on hand at Lifting Gear Direct. To speak to us, simply call 01384 76961, or else you may email us via the rapid form or contacts page.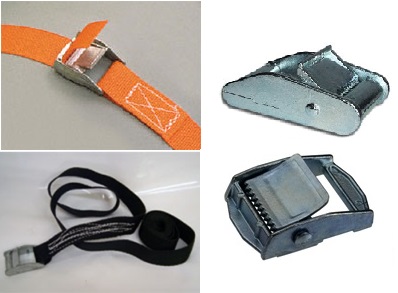 There are no products to list in this category.