1000kg Under Braced Swing Jib
Like all of our
hoisting
equipment
, these Jib Crane models are manufactured to the highest standards and installed by our expert engineers. There are a range of options to choose from to get the most productivity from your swing jib.
Call 01384 76961 for price.
1000kg Under Braced Wall Mounted Jib Crane Features
If you need optimal lifting height and up to a tonne of heavy duty handling capacity, our range of under braced jibs will fit the bill. Designed to fit in with your premises and tested to ensure safety, every crane we produce will meet industry standards and let you avoid injuries from manual handling of loads.
In addition to this model, our range includes cranes with capacities of 125kg to 3000kg. You can tailor your order even further by factoring in festoons and catenaries, electric chain hoists, isolators, trolleys and many other impactful features. As we not only install jibs, but also inspect and maintain them, you can count on us to keep your assembly in good working order throughout its lifespan. With some of the biggest brands on our site, as well as our exceptional own-brand creations, you will be sure to find what you need.
Find out more About our Swing Jib Cranes & Hoisting Equipment
The Lifting Gear Direct team can be relied upon to answer any questions you might have about the jib crane products we sell and the services we offer. Our contact hotline is 01384 76961, or if you prefer you can use our online form to get in touch and we will email you a swift response.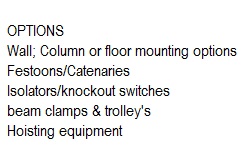 PLEASE CLICK ON THE RESPECTIVE IMAGES FOR MORE INFORMATION ON EACH SIZE.
| | | |
| --- | --- | --- |
| SWL | Height Under Beam | Arm Length |
| 1000kg | 3000mm | 3000mm |
| 1000kg | 3000mm | 3500mm |
| 1000kg | 3000mm | 4000mm |
| 1000kg | 4000mm | 3000mm |
| 1000kg | 4000mm | 3500mm |
| 1000kg | 4000mm | 4000mm |
| 1000kg | 5000mm | 3000mm |
| 1000kg | 5000mm | 3500mm |
| 1000kg | 5000mm | 4000mm |
| 1000kg | 5000mm | 5000mm |