2 Person Forklift Safety Cage Contact WP Series
This fork lift truck mountable safety cage is designed to carry 2 people. Ideal for safely working at heights. We have many more
height safety
products available.
Brand::

Contact

Product Code:

Contact WP Series 2 Person Forklift Safety Cage

Availability:

In Stock
Call 01384 76961 for price.
This range of Forklift mounted safety cages are able to carry 2 people. There are 4 versions available with different access types (see below).
These cages provide a safe and convenient way to carry out occasional tasks at heights whilst being compliant with health and safety regulations.
KEY FEATURES ON the 2 Person Forklift Safety Cage Contact WP Series
full length fork pockets
Kick rail on all sides
anti-slip flooring with drainage
Safety mesh back to protect rider from working forklift mechanisms.
harness anchoring points
secure locking system for safe fork attachment
The models incorporating a gate access point include a self closing and automatic locking gate for extra safety.
Other Safety Platforms
Lifting Gear Direct can supply other types of safety platforms by Contact, some of which can be mounted to the tines on a forklift truck and some or the larger ones can be slung from a crane.
For added convenience we now also supply a folding version which is ideal for infrequent use as it can be stored easily. We also have a raised height model for those scenarios where you need a little extra height that a standard cage on you fork lift cannot attain.
In addition to a safety platform you may need other height safety equipment; we can supply most types at great prices so give us a call today on 01384 76961 or drop us an email.
Model

Weight (KG)

C of G

No of people

Capacity (KG)

A mm

B mm

C mm

D mm

E mm

 

WP-ECONOMY

90

425mm

1 or 2

500

1000

1000

794

1860

1070

WP-GATED

108

500mm

2

500

1220

1000

794

1860

1070

WP-STD

114

496mm

2

500

1220

1000

794

1860

1070

WP-ULTIMATE

148

469mm

2

500

1220

1000

794

1860

1070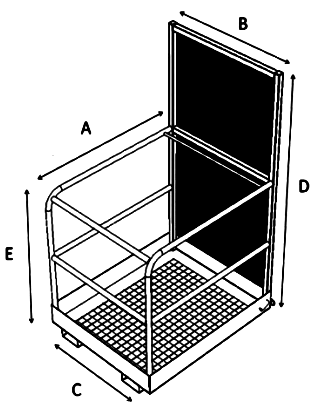 Model

Means of entry

Length x width (mm)

Max fork size mm

Fork spread mm

 

WP-ECONOMY

Lift up bar

1000x1000

150x50

794

WP-GATED

Side gate

1220x1000

150x50

794

WP-STD

Step through bars

1220x1000

150x50

794

WP-ULTIMATE

Side gate

1220x1000

150x50

794
Tags: height safety