2000kg Under Braced Swing Jib
A 2000kg / 2 tonne safe working load
swing jib crane
with under bracing to attain maximum height. Created by our engineers with care and attention to detail, this under braced model is available as a floor, wall or column mounted swing jib.
Call 01384 76961 for price.
Whatever your desired specifications, we can adapt the design and build a custom assembly with the best materials and parts available.
2000kg Under Braced Jib Crane Options
You have a lot of choice when it comes to setting up your bespoke under braced crane from Lifting Gear Direct. Do you want to mount it on the wall of your premises and equip it with an electric hoist from Donati? Do you want to fix it to the floor and include a trolley system to make it even more versatile? Would you rather use an internal column as the framework for the crane? Any of these options and many more can be chosen.
Whichever route you take, we will help you every step of the way, from the initial design to the installation and testing of the crane once it is in situ. So, for lifting equipment safety checks, maintenance and repairs, we are also the best people for the job.
Call or Email Lifting Gear Direct for more Information on Swing Jib Cranes
We sell a lot of different lifting equipment and offer a wide variety of services, so you might be a bit overwhelmed by all that Lifting Gear Direct has to offer. If you have a particular question that needs answering, or want to get a quote, call us on 01384 76961 or head to our online contact page to get in touch.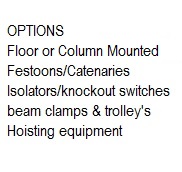 | | | |
| --- | --- | --- |
| SWL | Height Under Beam | Arm Length |
| 2000kg | 3000mm | 3000mm |
| 2000kg | 3000mm | 3500mm |
| 2000kg | 3000mm | 4000mm |
| 2000kg | 4000mm | 3000mm |
| 2000kg | 4000mm | 3500mm |
| 2000kg | 4000mm | 4000mm |