3000kg A-Frame Lifting Gantry
The 3000kg safe working load of this A-frame gantry is ideal for use in a vast array of areas from lifting car engines to the car itself. Our own A-frame lifting gantry systems are a very versatile piece of lifting equipment and can be customized to suit your requirements.
Call 01384 76961 for price.
They are delivered in 3 pieces, and with just 2 (or more) people, the gantry can be fully erected in no time at all, or if you prefer, our team can erect it for. Because the 2 x 'A' frame side's and top, cross beam bolt together, the gantry can be taken down, moved to another area or placed into storage whenever you need to.
3000kg A Frame Gantry Crane Dimensions
The dimensions of the 3000kg A-frame gantry are mostly up to you, due to the fact that they are manufactured in our own workshop. However, there are some maximum measurements that we can allow, these are 5m span and 4.5m under beam height.
When we talk about the maximum height we are referring to the distance from the floor to the underside of the top beam, therefore this is the maximum lifting height you can achieve. When talking about the maximum span, we are discussing the maximum measurement in-between the two 'A' frame sides, therefore this will be the maximum working area of the beam, the overall span / width of the gantry will be slightly larger.
Whichever type of A frame gantry crane setup you choose, you can be sure that it will meet anticipated standards for safety. There is no point risking injury when, with the right equipment at your disposal, your employees can become more productive as well as safer in their work.
3000kg A Frame Gantry Attachments
The optional extras available to enhance your 3000kg A-frame gantry include electric isolators, festoon systems, parking jacks, plated feet, castors and any type of beam attachment, hoisting device or lifting sling and loose tackle.
You have the option of either bolting this lifting gantry in place, or affixing the aforementioned attachments to make it a bit more mobile. These extras also give you more adjustability, which can come in handy if you are expecting to use this gantry in a number of different situations, rather than picking a permanent position and sticking with it. This is just part of the responsive, flexible service we offer.
While we manufacture many of the lifting gantry models and jib cranes in-house, we also stock products from big name brands from across the lifting equipment industry. If you need a chain hoist from Demag, winches from Yale and kit of all kinds from other influential firms, Lifting Gear Direct is the best place to shop.
Looking for Help with your A Frame Gantry Crane?
The best way to get the lowdown on any of our products, if you cannot find what you are looking for on our site, is to contact the Lifting Gear Direct team direct. Call 01384 76961 for more information, service quotes and delivery time frame estimates. Fill in the contact form on our site if you want to engage with us via email.
PLEASE CLICK ON THE INDIVIDUAL PRODUCTS BELOW FOR MORE INFORMATION ON EACH SIZE.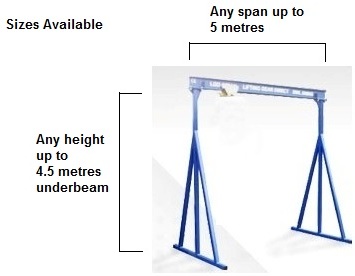 | | | |
| --- | --- | --- |
| SWL | Height Under Beam  | Span |
| 3000KG | 3000mm | 3000mm |
| 3000KG | 3000mm | 4000mm |
| 3000KG | 3000mm | 5000mm |
| 3000KG | 4500mm | 3000mm |
| 3000KG | 4500mm | 4000mm |
| 3000KG | 4500mm | 5000mm |