3000kg Under Braced Swing Jib
This is our largest capacity
under braced swing jib crane
with a 3000kg / 3 tonne safe working load.The widest slewing range is 270 degrees, however simple stops can be added to limit this.
Call 01384 76961 for price.
We can customise this crane with optional features, build it and install it on-site to make things as simple as possible.
Choosing a 3000kg Under Braced swing Jib Crane
When you select an under braced swing jib we can set it up in a number of different ways. Our under braced range includes floor mounted models, as well as those suitable for mounting on walls or columns. So whatever the layout of your premises, we can fashion the best crane for you.
We equip our jib cranes with the highest quality hoisting equipment from respected brands such as Demag, Donati and a host of other suppliers. If you need add-on equipment like clamps, trolleys, catenaries and knockout switches, these are also available to order as part of your crane package.
Each crane we manufacture will also be fitted by our engineers and tested to ensure it complies with safety regulations. Our smaller cranes, with capacities of between 125kg and 2000kg, are available alongside this range-topping 3000kg unit, so you do not need to be restricted to a single safe working load if you are looking for something different to assist you with common lifting tasks.
Get Floor Mounted Jib Crane Quotes & Information
We can price up a floor mounted jib crane package for you or give you further details about any of our products. All you need to do is contact Lifting Gear Direct via phone on 01384 76961 or use our site to email us. The Lifting Gear Direct team is here to handle any queries.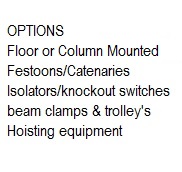 | | | |
| --- | --- | --- |
| SWL | Height Under Beam | Arm Length |
| 3000kg | 3000mm | 3000mm |
| 3000kg | 3000mm | 3500mm |
| 3000kg | 3000mm | 4000mm |
| 3000kg | 4000mm | 3000mm |
| 3000kg | 4000mm | 3500mm |
| 3000kg | 4000mm | 4000mm |
 You can find out more details on each size below.