500kg Aluminium Lifting Gantry
The 500kg aluminium gantry comes in 3 heights, 2500mm, 3000mm & 3500mm with each height available is 4 span sizes, 2000, 3000, 4000 or 5000mm.
All you need to do is choose the configuration that suits your needs and place an order with
Lifting Gear Direct
.
Call 01384 76961 for price.
You will appreciate all of the benefits that an aluminium gantry has to offer, from its lightweight design to its durability.
500kg Aluminium Gantry Crane Benefits
Like all of our aluminium gantry models, this unit is easy to put up and breakdown into a compact pack secured with the included securing straps for easier transportation. The alloy material with which it is constructed is tough yet light, which means it is less of a hassle to haul around from place to place. So, if you need a portable setup to handle a number of different lifting jobs, this is the best gantry to choose.
Aluminium is not just better than steel as a gantry option because it weighs less; it also has the edge in terms of general-purpose resilience. While humid conditions and chemical- rich environments can corrode other metals, an aluminium lifting gantry will shrug off the worst effects for longer. This means you can expect to get years of use out of this product without it missing a beat.
The half-tonne safe load limit is good for lots of different lifting jobs, especially if you want to give staff a rest from the more strenuous hauling tasks and prevent injuries from occurring. We also sell standard gantries in this range with capacities of between 500KG and two tonnes, which means we cater to customers' needs effectively across every niche.
500kg Aluminium Lifting Gantry Add-Ons
Additional options include levelling feet which are ideal if the ground is uneven and a winch kit to aid safety & usability when raising and lowering the height of the unit. Stability is obviously an important asset, especially for a portable gantry which will need to stand securely in a number of different settings. Our standard aluminium models are just as impactful outdoors as they are under cover, so if you are going to be visiting lots of sites and need to tackle whatever challenges you face when you arrive, these gantries will give you all the support you need.
Each model is height adjustable by 500mm (under its max. height) in 100mm increments.
Contact us for Gantry Crane Info & Quotes
Finding out all you need to know about the aluminium gantry products we sell on our site could not be simpler. You can contact us by calling 01384 76961 or using the simple form to send us an email with your question. We can also give you a quote for the custom lifting solutions we sell, so drop us a line today.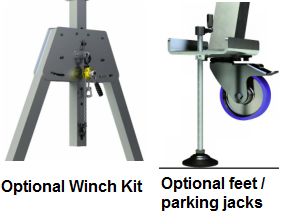 SWL

Model Number

Beam Length

Clear Span

Trolley Travel

Max Width

Load Pin Height Min

Load Pin Height Max

Overall Height Min

Overall Height Max

Tread

KG






C

B

A






D

D

E

500KG

LGD100608M

2000

1840

1209

2211

1904

2404

2180

2683

1381

LGD100610M

2404

2904

2680

3183

LGD100612M

2904

3404

3180

3683

LGD100808M

2500

2340

1708

2711

1904

2404

2180

2683

LGD100810M

2404

2904

2680

3183

LGD100812M

2904

3404

3180

3683

LGD101008M

3000

2840

2208

3211

1904

2404

2180

2683

LGD101010M

2404

2904

2680

3183

LGD101012M

2904

3404

3180

3683

LGD101208M

3500

3340

2708

3711

1904

2404

2180

2683

LGD101210M

2404

2904

2680

3183

LGD101212M

2904

3404

3180

3683

LGD101508M

4500

4340

3708

4711

1904

2404

2180

2683

LGD101510M

2404

2904

2680

3183

LGD101512M

2904

3404

3180

3683