500KG Mobile Gantry Crane
This bespoke 500kg mobile gantry system can withstand loads up to half a tonne safely. Our smallest and therefore lightest steel mobile gantry is perfect for use in smaller workshops and factories. Prices start from just £951.37
Call 01384 76961 for price.
500kg Mobile Gantry Crane Customisation Options
Our team of fabricators can manufacture the 500kg mobile gantry to a size to suit your requirements within the maximum range of 4.5 metres under beam and 5 metre spans, enabling you to get the exact size you need to complete your lifting tasks.
This is the smallest of our own brand bespoke mobile gantry systems, however we can manufacture them in a range of lifting capacities with the largest being our 5000kg mobile gantry. Adaptability is important to a lot of our customers, so our mobile lifting gantry models are all bespoke and built to order, whether you pick the smallest or the largest of the bunch. More good news is that a lot of the same features and perks are available across every assembly.
500kg Portable Gantry Mobility Features
The 500kg mobile gantry cranecomes complete with four heavy duty castors which enables the gantry to be moved around with ease, though it should be noted that our mobile gantries are not to be moved when carrying a load. Two of the castors incorporate brakes in order to prevent the gantry from unwanted movement; we can however fit brakes to all four castors if required.
Optional extras for the 500kg mobile gantry include: Parking Jacks, Isolator switches / knockout boxes, Festoon systems and a choice of lifting equipment such as slinging equipment, shackles and other connectors, hoists and more.
The parking jacks are particularly useful if you want to deploy the mobile gantry in an area where the surface underneath it is uneven, and it might be prone to instability without appropriate adjustments being made. Each jack can be altered to ensure that the gantry stays level and does not put workers at risk during use.
If you would prefer a fixed gantry solution, we also sell a range of jib cranes which you can customise to whatever specifications you require. Like the portable gantry assemblies, these are all built by our engineering team at Lifting Gear Direct and represent the highest levels of quality that can be achieved today.
500kg Mobile Lifting Gantry Safety Standards
All our mobile gantry cranes are load tested and conform to the necessary standards. Yearly inspections are offered to keep your health and safety records up to date.
If you need to know more about mobile gantry systems you can read all about them on our main mobile gantry page.
Contact Lifting Gear Direct for Mobile Gantry Quotes
If you would like us to get to work on your very own 500kg portable gantry, you can get the ball rolling by calling our team on 01384 76961 or contacting us through our website. We will talk you through the products we offer, answer questions and give you a quote if needed. We are sure you will not regret getting in touch with Lifting Gear Direct.
PLEASE CLICK ON THE BELOW TABLE FOR MORE INFORMATION ON EACH SIZE.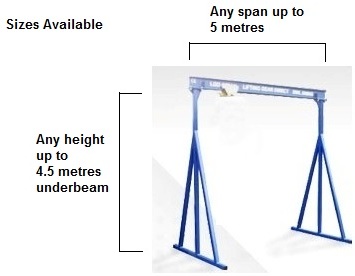 | | | |
| --- | --- | --- |
| SWL | Height Under Beam  | Span |
| 500kg | 3000mm | 3000mm |
| 500kg | 3000mm | 4000mm |
|  500kg | 3000mm | 5000mm |
| 500kg | 4500mm | 3000mm |
|  500kg | 4500mm | 4000mm |
|  500kg  | 4500mm | 5000mm |