The Simple Q&A of Safety Harnesses
15 September, 2020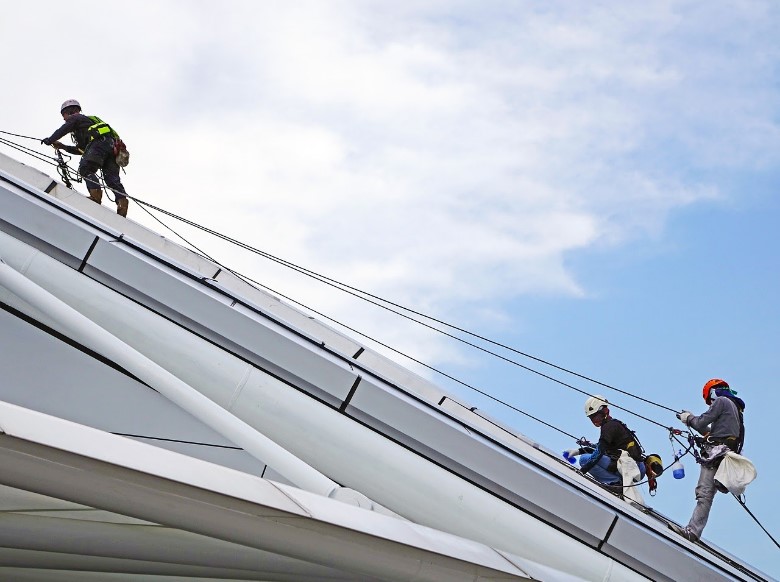 When working from a height, a safety harness is a vital piece essential to prevent workers from falling and injuring themselves. Safety harnesses offer restraints that workers can attach themselves to, ensuring that they do not hit the ground in the event of a fall. Safety harnesses should never be disregarded as all it takes is a simple slip or misplaced footing and you could be fatally injured.
With many workers operating at heights, i.e. builders, lifting gear industry workers, lift repairers, crane engineers, high-rise window cleaners and telecom engineers, it's critical to have a fully functional safety harness kit in order to comply with the Health and Safety at Work Act of 1974.
Wearing a safety harness may just save your life, so it's important to always wear one when working from any height. In this guide, we explain some of the simple questions and answers of safety harnesses, including how safety harnesses work and in which environments you should wear them in.
How Do Safety Harnesses Work?
Safety harnesses have buckles and straps are strategically placed in areas of the body that support the worker's weight as much as possible, such as the shoulders, chest, pelvic area and the upper thighs. These harnesses allow enough free movement that workers can comfortably do their job but still provides enough protection in the unlikely event of an accident.
Having safety harnesses protecting these areas of the body will allow them to absorb the force of a fall, meaning that all critical areas that are most sensitive are fully protected.
There are two types of safety harnesses available, both offering different types of protection. Fall arrest harnesses catch you from a predetermined height and allow for freedom to move around, however, the falling distance should be kept to a minimum. Fall restraint systems stop you from falling in the first place as they keep you tightly anchored to where the safety line is attached. However, fall restraint systems can be restrictive in moving around.
Which Environments Should You Wear Safety Harnesses In?
When you work from height, whether it's several feet or 100 metres, a safety harness is vital and should be classed as a work necessity for anyone working from a height. Safety harnesses should be worn whilst carrying out any tasks where falling is a risk.
All workplaces are required to have risk assessments to identify if employees are exposed to dangerous risks, so whether or not safety harnesses are required will be decided during this assessment. Any workplace that requires working from a height should have risks fully assessed. If workers are required to operate from a significant height, it's safe to say that a safety harness is required.
Should Safety Harnesses Be Maintained?
In order for safety harnesses to be fully functional and safe for operational use, they must be maintained before every use. Safety harnesses should be checked for any damage or deterioration that can affect its safety rating.
It goes without saying, but any harness that has been through a fall should be replaced immediately and shouldn't be reused, as they are likely to have deterioration, cuts, nicks or forms of damage.
The Personal Protective Equipment at Work Regulations of 1992 state that employees must maintain fall arrest equipment (safety harnesses) in good repair and should be replaced when appropriate.
In addition to that, the Work at Height Regulations of 1992 requires any equipment used during these conditions which are liable to result in dangerous situations should be inspected at suitable intervals.
How Can We Help?
At Lifting Gear Direct, we supply safety harnesses to suit virtually any height. Whether it's one or two anchor points, a two-point work positioning harness, rescue harness or even a high visibility harness, we have every piece of safety equipment to keep you and your workers safe.
We also have a range of sizes available so that your safety harnesses safely fit and provide enough protection for workers, which is why our safety harnesses are fitted to chest and thigh measurements.
Looking for a little more than a safety harness? We even supply a selection of safety harness kits to provide your basic needs in a kit bag.
If you would like to discuss your height safety needs, need some additional information, place an order or can't find what you are looking for then get in touch, we are always ready to help wherever possible.
Speak to our team by calling 01384 76961 or fill in our contact form to discuss your requirements today.