Camlok TAG Plate Clamp
The TAG plate clamp is versatile with a large jaw and is classed as universal.
Brand::

Camlock

Product Code:

Camlok TAG Plate Clamp

Availability:

In Stock
Call 01384 76961 for price.
Ket facts for the Camlok TAG Plate Clamp
Additional chain slings not necessary. 

Suitable for a variety of applications such as; loading machine tools; steel constructions and welding. 

A positive tension jaw spring retains the gripping force. 

Quick open lever for rapid loading and unloading. 

Service and repair friendly. 

Available in 12 versions with various jaw sizes and WLL from 350kg up to 10000kg.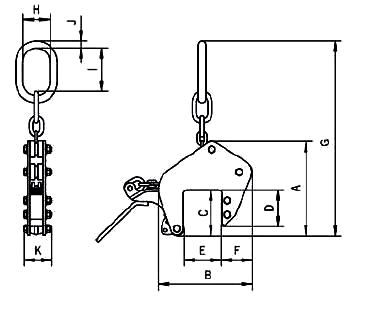 Model

A mm

B mm

C mm

D mm

E mm

 

F mm

G mm

H mm

I mm

J mm

K mm

 

TAG 350/100

264

259

128

100

100

85

550

75

121

20

78

TAG 350/200

382

434

195

156

200

120

760

75

121

20

90

TAG 750/100

264

259

128

100

100

85

550

75

121

20

83

TAG 750/200

382

434

195

156

200

120

760

75

121

20

90

TAG 1250/100

320

289

128

100

100

85

570

75

121

20

83

TAG 1250/200

382

434

195

156

200

120

760

75

121

20

90

TAG 2000/100

328

415

135

115

100

105

571

75

121

20

105

TAG 2000/200

375

515

195

165

200

160

750

75

121

20

105

TAG 3000/90

297

290

136

106

90

91

570

82

111

32

137

TAG 5000/90

297

290

136

106

90

91

570

82

111

32

147

TAG 10000/100

405

423

160

130

100

160

720

102

144

40

208

TAG 10000/200

440

562

200

175

200

183

840

102

144

40

208
Model

 

WLL (KG)

Jaw capacity (mm)

Weight (KG)

 

TAG 350/100

35-350

0-100

9

TAG 350/200

35-350

90-200

14

TAG 750/100

75-750

0-100

9

TAG 750/200

75-750

90-200

15

TAG 1250/100

125-1250

0-100

15

TAG 1250/200

125-1250

90-200

26

TAG 2000/100

200-2000

0-100

22

TAG 2000/200

200-2000

90-200

30

TAG 3000/90

360-3000

5-90

25.5

TAG 5000/90

600-5000

5-90

30

TAG 10000/100

1500-10000

0-100

70

TAG 10000/200

1500-10000

100-200

101