Hacketts Fixed Jaw Beam Clamp - WH-BC
With models available with working load limits up to 15 tonnes the WH-BC fixed jaw beam clamp is a great super clamp with the ability to load at angles. Read below to find out more.
Product Code:

Hackets Fixed Jaw Beam Clamp

Availability:

In Stock
Call 01384 76961 for price.
About the WH-BC Fixed Jaw Beam Clamp
This super clamp from William Hackett is different from other beam clamps in that it incorporates a special gusset in both of its jaws. This gusset maximises the contact of the clamp with the beam and therefore increases its grip. The central spindle is used for tightening and loosening the clamp for easy attachment and removal.
A large shackle is incorporated into the design of this fixed jaw clamp which enables easy attachment of hoisting equipment.
This super safe clamp comes in a wide range of working load limits from 2 tonne up to 15 tonne. It is also able to be utilized for angled loading to up to 45 degrees from vertical; although there will be some reduction to the working load limit depending on the angle so please refer to the table below to find out all the necessary reductions you will need to apply.
Other Beam Clamps
Check out the main beam clamp category page where you will find many other types of beam clamps from some key brands. Most models have a buy online option, for the others just call us on 01384 76961 for the latest price. The beam clamps have differing specifications to suit a variety of tasks so check them all out to find one that is most suited to your needs.
If you need to move loads across the beam then our range of beam trolleys would probably suit your needs better, these are typically more popular than fixed clamps due to their flexibility.
Get in touch if you need help or advice, we are always happy to help.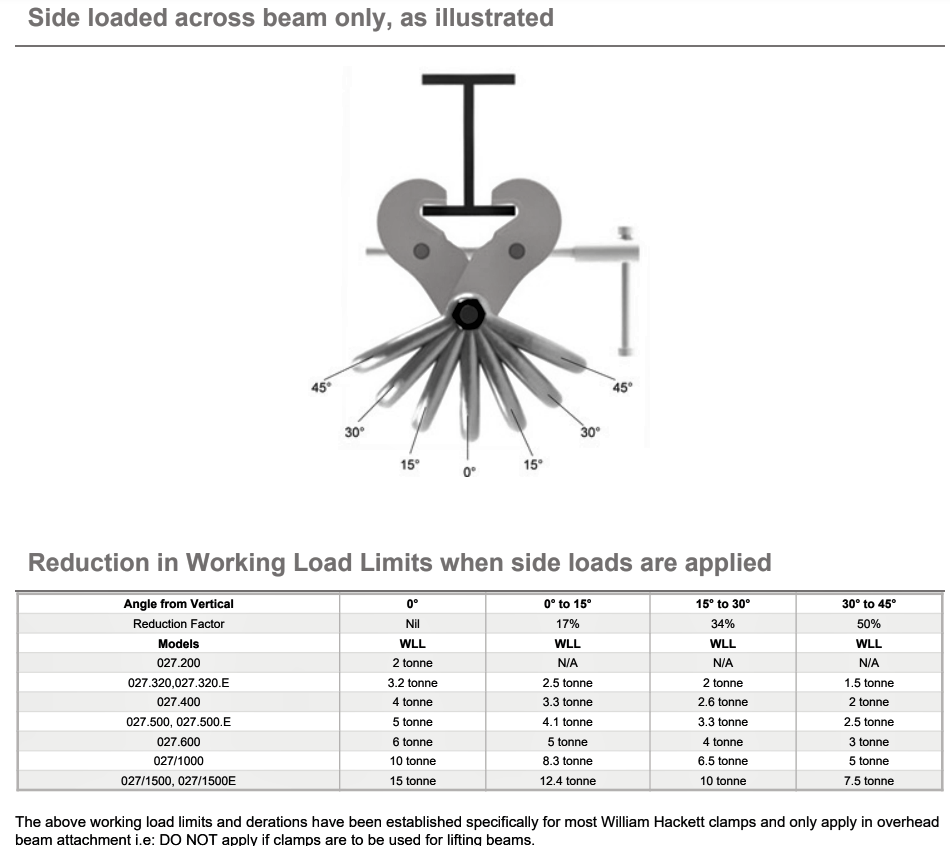 Model
No.

WLL
tonnes

Beam Range
mm

Max. Beam
Thickness mm

a
mm

b
mm

d
mm

e
max

e
min

g
mm

k
max

k
min

h
mm

Mass
kg

WH-BC2

2

76-190

14

130

3

90

254

133

275

263

223

20

4

WH-BC3

3.2

76-190

16

130

12

102

275

166

275

289

251

20

8

WH-BC3W

3.2

127-350

16

130

12

102

438

228

560

375

294

20

11.5

WH-BC4

4

150-254

12

130

10

112

371

185

410

369

308

25

11

WH-BC5

5

76-190

12

130

12

116

306

191

295

338

300

25

10

WH-BC5W

5

150-305

12

130

12

116

422

264

410

413

360

25

15

WH-BC6

6

203-457

24

140

12

116

608

267

560

511

402

25

18.8

WH-BC10

10

203-457

24

140

20

118

608

267

560

530

421

32

28

WH-BC15

15

203-457

54

170

20

116.5

648

400

660

684

608

40

49.5

WH-BC15W

15

406-610

54

170

20

116.5

800

600

810

812

706

40

58.5