Hacketts Push Travel Trolley WH-PT
This push travel trolley by William Hacketts boasts high tonnage lifting capabilities which extend across the range up to 10 tonnes. The range includes corrosion protection models and also ATEX rated versions, see below for more details.
Product Code:

Hacketts WH-PT Push Trolley

Availability:

In Stock
Call 01384 76961 for price.
About the Hacketts Push Travel Trolley WH-PT
Precision engineered to a high quality this push travel beam trolley enables precise positioning on the beam. It can traverse the beam easily even when a hoist and load are attached. This is thanks to the sealed ball bearings within the precision machined trolley wheels.
This beam trolley can be supplied in a range of models to suit a variety of beam widths, there are 2 ranges, the standard range and the extended beam range for larger 'I' beams.
Anti-jump bars come as standard as do the rubber end stops for better performance and safety.
There are 6 different working load limit models available across both ranges which are 0.5t, 1t, 2t, 3.2t, 5t and 10tonne so there is plenty of choice to suit your needs.
All the trolleys in this range exceed requirements set by both British and International standards. (BS EN 13157:2004 + Al:2009 so you can be assured of quality and safety.
WH-PT ATEX & Corrosion Resistant Versions
The WH-PT range of push travel trolleys also incorporates 2 additional types; these are a corrosion resistant version and an ATEX rated version.
The corrosion resistant version is available in all models up to the 5 tonne version (see specifications for size details)
The Atex rated version is available in the 0.5, 1 & 2 tonne models (see spec table) It complies with the ATEX directive 2014/34/EU & machinery directive 2006/42/EC. These are fitted with solid bronze wheels and a copper plated hanging plate.
ATEX Details

Other Beam trolleys and Attachments
Lifting Gear Direct can supply many types of beam attachments including beam clamps and trolleys including; push trolleys, geared trolleys and powered trolleys. There are more Hacketts products available in this range along with similar products from a range of other trusted manufacturers, the choice is yours.
Help and advice is always available from our team should you require it so please don't hesitate to get in touch if the need arises. Call 01384 76961 or use the contact form to email us.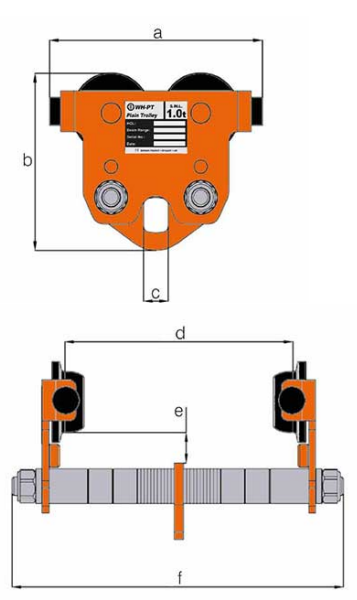 WLL
t

Min.radius
of Curve m

a
mm

b
mm

c
mm

e
mm

0.5

0.8

190

154

22

27

1

0.9

206

180

30

26

2

1

246

210

37

26

3.2

1.2

300

249

42

28

5

1.3

336

277

50

37

10

2

396

334

58

37

Standard Range 1




WLL
t

I Beam Width
mm

d Max. width
mm

f Max.
mm

Mass
kg




0.5

 50-203

 203

 294

 6.60

1

 64-203

 203

 311

 9.40

2

 88-203

 203

 324

 14.50

3.2

 100-203

 203

 348

 25.70

5

 114-203

 203

 369

 37.30

10

 124-203

 203

 384

 59.00

Extended Range 2




WLL
t

I Beam Width
mm

d Max. width
mm

f Max.
mm

Mass
kg

0.5

-

-

-

-

1

64-305

305

413

11.1

2

88-305

305

426

16.3

3.2

100-305

305

450

28.5

5

114-305

305

471

41

10

124-305

305

486

64