Heavy Duty Tipping Skip - Contact RFS-HD
The RFS-HD is a heavy duty tipping skip with a 5mm steel hopper and frame.
Brand::

Contact

Product Code:

Contact RFS-HD

Availability:

In Stock
Call 01384 76961 for price.
The easy to use release mechanism enables quick and simple emptying of waste materials.
The full width release handle allows easy tipping without the need for leaning between the rear of the skip and forklift carriage.
The twin locking devices keep the skip secure even when unevenly loaded.
Pre-drilled castor plates to enable quick bolting-on of castors.
OPTIONAL EXTRASfor the Heavy Duty Tipping Skip - Contact RFS-HD 
castors - standard or heavy duty; braked or unbraked.

lifting lugs for crane slung lifting

colour - yellow, blue, red, green

Auto-retention - locks & unlocks skip to forks automatically

Drain taps
Model Ref

Weight (KG)

C of G Min

C of G Max

Load centre

 

RFS 25L-HD

119

818mm

595mm

575mm

RFS 40L-HD

133

899mm

679mm

679mm

RFS 80L-HD

173

1048mm

735mm

735mm

RFS 120L-HD

206

1151mm

835mm

835mm

RFS 160L-HD

228

1184mm

835mm

835mm

RFS 200L-HD

256

1187mm

835mm

835mm
Model Ref

Volume

Capacity (KG)

A

B

C

D

E

F

RFS 25L-HD

0.25m

?

1000

1148mm

794mm

678mm

1025mm

890mm

547mm

RFS 40L-HD

0.40m?

1000

1410mm

794mm

781mm

1197mm

890mm

547mm

RFS 80L-HD

0.80m?

1000

1480mm

1300mm

834mm

1325mm

890mm

600mm

RFS 120L-HD

1.20m?

1250

1710mm

1300mm

985mm

1540mm

890mm

750mm

RFS 160L-HD

1.60m?

1250

1710mm

1700mm

985mm

1540mm

890mm

750mm

RFS 200L-HD

2.00m?

1500

1710mm

2125mm

985mm

1540mm

890mm

750mm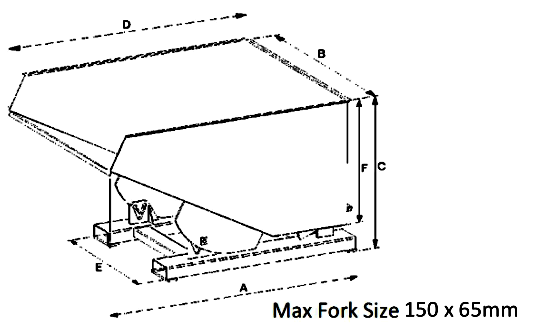 Model Ref

Volume Capacity

O/all Length

O/all Width

O/all Height

 

[M

3

]

[mm]

[mm]

[mm]

RFS 25L-HD

0.25

1148

794

678

RFS 40L-HD

0.4

1410

794

781

RFS 80L-HD

0.8

1710

900

985

RFS 120L-HD

1.2

1710

1300

985

RFS 160L-HD

1.6

1710

1700

985

RFS 200L-HD

2

1710

2125

985