Large Bow Shackle
These are from our bow shackles range and are the large bow shackle with a screw pin, they have a larger Bow shape than the
small bow shackles
.
This means they are a bit more flexible in terms of the accessories they can accommodate, while taking up a little more space. The larger dimensions and higher load limits mean you have to think carefully about where they are going to be used to work out if they are suitable.
Design Features of Large Bow Shackles
The type 'A' screw pin screws securely into the shank recess by hand tightening, it should then be secured further with the use of a wrench so that the collar sits firmly against the shackles eye.
This straightforward design is user-friendly and common across many of the shackles we stock, including our other bow shackles.
Materials & more
Made from high tensile steel they are available is hot dipped galvanized or self coloured finishes and in a wide range of working load limits up to 15 tonne. This design ensures strength and durability in standard lifting scenarios.
Consider investing in our stainless steel shackles if you want a little more corrosion resistance baked into the design. If this is less relevant in the environment where you operate, then a standard large bow shackle should be more than adequate.
Load Calculations & safety
These large bow shackles have a good safety factor with the minimum breaking load equalling 5 times the stated working load limit.
Within this range the dimensions vary according to the WLL, for example the inside bow width ranges from 3/4 inch on the 0.15 tonne model whilst it will be 5 1/2 inches on the largest 15 tonne model. So there should be a large bow shackle to suit your requirements.
Regardless of the large bow shackle you pick, you need to take lifting safety guidelines into account when making a decision. We supply as much information about the products on our site as possible, so check the technical table below if you already have an ideal set of specifications in mind to see if we can match them.
Even if you cannot see what you are looking for below, remember that you can use our contact details to get in touch and we will do our best to help.
How to Contact LGD
Get in touch by email with our rapid enquiry form or by phone for a quick quote. The number to dial is 01384 76961 and you can be sure that our friendly, experienced team will be able to deal with any question you might have.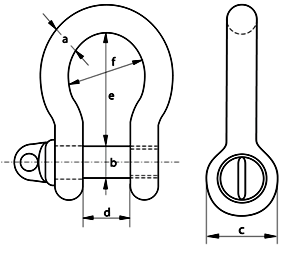 Working Load Limit

Diameter Bow

Diameter Pin

Diameter Eye

Inside Width

Inside Length

Width Bow

Weight Each

tons

a

        

inch

b

              

inch

c

              

inch

d

           

inch

e

          

inch

f

         

inch

kg

0.15

1/4

3/8

3/4

1/2

1.1/8

3/4

0.08

0.45

3/8

1/2

1

5/8

1.5/8

1

0.18

0.75

1/2

5/8

1.1/4

7/8

2.1/8

1.1/4

0.34

1.25

5/8

3/4

1.1/2

1.1/8

2.3/4

1.5/8

0.65

2

3/4

7/8

1.3/4

1.3/8

3.3/8

2

1.08

2.75

7/8

1

2

1.5/8

3.7/8

2.1/4

1.8

3.75

1

1.1/8

2.1/4

1.3/4

4.1/4

2.1/2

2.46

4.75

1.1/8

1.1/4

2.1/2

2

4.7/8

2.7/8

3.47

5.75

1.1/4

1.3/8

2.3/4

2.1/4

5.3/8

3.1/4

4.56

7.25

1.3/8

1.1/2

3

2.1/2

6

3.1/2

6.07

8.5

1.1/2

1.3/4

3.1/2

2.3/4

6.5/8

3.7/8

8.35

9.5

1.5/8

1.7/8

3.3/4

3

7.3/8

4.3/8

11.81

11.5

1.3/4

2

4

3.3/8

8.1/8

4.3/4

14.32

13

1.7/8

2.1/8

4.1/4

3.5/8

8.3/7

5.1/8

17.03

15

2

2.1/4

4.1/2

3.7/8

9.3/8

5.1/2

20