125kg Wall Mounted Jib Crane
This is the smallest capacity
wall mounted jib crane
with a SWL of 125kg. We can also manufacture larger cranes of this type with working load capacities of up to
500kg
. As with all of our own-brand products,
our lifting swing jib crane
units are built to last and crafted with an expert eye.
Call 01384 76961 for price.
The Features of a 125kg Wall Mounted Jib Crane
The most obvious capability of this crane is its 125kg safe working load limit, which gives it the ability to take on a number of different duties in several scenarios. For lugging lighter loads in workshops it is ideal.
Each model comes with slewing angles of 270 degrees with stops available as required. You can pick either over bracing, for improved clearance below the beam, or under bracing so that there are no obstructions above the crane. The choice of options and adjustments that can be made does not end there. We also give our customers access to extra lifting equipment such as clamps, trolleys and hoisting equipment to bundle in with their swing jib. If you need a festoon system, an isolator switch or a knockout box, these are also available.
Whatever type of crane setup you select, you can rest assured that the Lifting Gear Direct team will make it a reality using years of knowledge and expertise.
Pick a Complete Wall Mounted Jib Crane Package
Manufactured to suit your needs, delivered, installed and load tested by our experienced team. There is a lot to love about the products and services we offer and the flexibility they give our customers. We also provide plenty of other services to go along with all this. We offer yearly inspections, which are mandatory for this type of equipment to ensure total safety. We can fix problems, replace faulty components and maintain your crane assembly for total convenience.
As well as wall mounted models, you can buy floor and column mounted lifting crane equipment direct from us, with all the same customisation options and extras. If you need chain hoists, gantry systems or lifting gear of any other kind, our well stocked site should be the first place you visit.
Ask the Experts About Lifting Crane Equipment
We want our customers to be well informed before they invest in our products, so we are always happy to answer questions and give you extra information as necessary. Contacting our knowledgeable staff is easy; just call us on 01384 76961 or get in touch online for a fast response via email.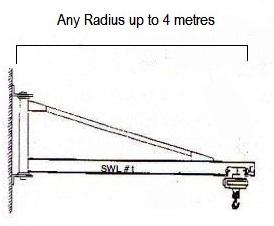 | | |
| --- | --- |
| SWL  | Arm Length |
| 125KG | 3000mm |
| 125KG | 3500mm |
| 125KG | 4000mm |