250kg Under Braced Swing Jib
This 250kg SWL
under braced jib crane
is produced and installed by our team of engineers. Available as a wall, floor or column mounted Jib, this under braced example is popular across a number of commercial operations.
Call 01384 76961 for price.
Benefits of our 250kg Under Braced Swing Jib Crane
There are lots of reasons to invest in an under braced jib crane, especially as the products we sell are fine tuned to the needs of each client. Whether you want a crane that is mounted on a column or wall in your workshop, or a freestanding setup affixed securely to the floor, we can manufacture the perfect jib crane assembly to meet your expectations.
If you need any additional features, such as a hoist from major brands like Demag and Yale, we can include this at a competitive price. We can add festoons and catenaries if necessary, factor in a knockout switch and even bundle in beam clamps and trolleys. This is all part of the bespoke service we offer.
The 250kg load capacity of this crane is great for light to medium lifting, especially where safety is a concern. Larger models are available, with payloads of up to 3000kg manageable within our range of under braced jibs.
Contact us for Jib Crane Information & Quotes
To get in touch with the Lifting Gear Direct team, call 01384 76961 or fill in our online contact form. We can give you updates on any of our hoisting equipment, quotes for a crane installation project, details about the maintenance and repair services we offer and much more besides. Give us a ring today and see what we can do to help you.
PLEASE SEE THE PRODUCTS BELOW FOR MORE INFORMATION ON EACH SIZE.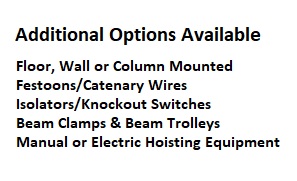 | | | |
| --- | --- | --- |
| SWL | Height Under Beam | Arm Length |
| 250KG | 3000mm | 3000mm |
| 250KG | 3000mm | 3500mm |
| 250KG | 3000mm | 4000mm |
| 250KG | 4000mm | 3000mm |
| 250KG | 4000mm | 3500mm |
| 250KG | 4000mm | 4000mm |
| 250KG | 5000mm | 3000mm |
| 250KG | 5000mm | 3500mm |
| 250KG | 5000mm | 4000mm |
| 250KG | 5000mm | 5000mm |