3000kg Mobile Gantry Crane
This is one of our larger mobile gantry crane systems and is able to easily pick up any load up to its working load limit of 3000kg. Our 3 tonne mobile gantries can be customized with parking jacks, isolator switches and
hoisting devices
.
Call 01384 76961 for price.
The beauty of a mobile gantry is that you can take the load to the gantry or take the mobile gantry to the load. We also make smaller gantries with capacities of as little as 500kg, in addition to our largest 5000kg unit, so you have lots of options according to your needs and budget.
3000kg Mobile Gantry Crane Manoeuvrability
The 3000kg mobile gantry is relatively easy to move around, thanks to the smooth running of the heavy-duty polyamide castors. We fit 4 of these quality swivelling castors 2 of them include brakes to ensure you minimise the risk of unwanted movement of the gantry.
Take a look at the flooring around the area where the mobile gantry will be used, if it is uneven then it will probably be worth having parking jacks fitted. We can fit 4 top winding jacks, which will enable you to adjust the height of the gantry at each corner until it is level.
An unlevel gantry can quickly become unstable when loaded, and possibly tip over! This is why a lot of our customers ask us to fit these jacks, as it gives them the peace of mind they need when working on tricky terrain. Another point to mention is that you should never move the mobile lifting gantry while it has a load attached. Its mobility only relates to the ability to move it from place to place between jobs.
3000kg Portable Gantry Dimensions
With a maximum under beam height of 4.5 metres and maximum span of 5 metres, this 3000kg Mobile gantry system can be produced to any measurement below these dimensions.
They are simple to erect as their 3 parts simply bolt together, which also makes them easy to move to other sites on a lorry. This means that they truly are portable and will not limit you to only tackling lifting tasks from a single location. Just make sure you have the right safety gear and follow industry regulations when using and moving your mobile lifting gantry.
3000kg Mobile Gantry Extra Kit
To further enhance your mobile gantry, we can also offer festoon systems/catenary wires and isolator switches/knockout boxes as optional extras, along with additional lifting equipment, such as beam trolleys & clamps and hoisting equipment.
Perhaps you just need a single piece of lifting equipment to add to an assembly that you already have on-site? We can also supply individual components, accessories and supplies of all kinds.
Want to know more about our mobile gantries? Read our main mobile gantry page here.
Call or Email us about our Mobile Gantry Products
There are several ways to get in touch with Lifting Gear Direct if you have questions about the portable gantry systems we manufacture. Call 01384 76961 if you want additional information or a quote. Email us by visiting the contact page on our site, where you can fill in a form to get in touch. Our team is looking forward to your message
PLEASE CLICK ON THE BELOW INDIVIDUAL PRODUCTS FOR MORE INFORMATION ON EACH SIZE.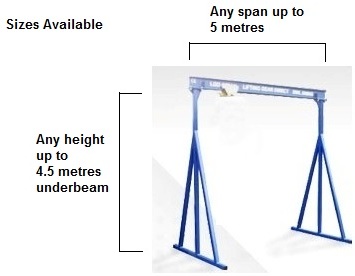 | | | |
| --- | --- | --- |
| SWL | Height Under Beam  | Span |
| 3000kg | 3000mm | 3000mm |
| 3000kg | 3000mm | 4000mm |
| 3000kg | 3000mm | 5000mm |
| 3000kg | 4500mm | 3000mm |
| 3000kg | 4500mm | 4000mm |
| 3000kg | 4500mm | 5000mm |