5000kg Mobile Gantry Crane
This is the largest of our mobile gantry crane systems; it has a maximum safe working load of 5000kg and works well in many different workplaces. With a 5 tonne maximum lifting capacity this range of 5000kg mobile gantries has many different options available. These includt varying heights and spans as well as additional components.
Call 01384 76961 for price.
This mobile gantry sits at the top of the range in terms of capacity, but we also sell smaller models with between 500kg and 3000kg of lifting power on offer.
5000kg Mobile Gantry Crane Size Options
The span of the 5000kg mobile gantry can be anywhere up to 5 metres in-between the side frames; the height under the beam can be anything up to 5 metres, the choice is yours as we manufacture these systems in our own workshops. It is worth noting that these 5 x 5 dimensions are taken inside the frame to give the working dimensions, i.e. 5m lifting height and 5m of beam travel. If you need the overall size, then please call us on 01384 76961 where our team can work it out for you.
Extra heavy-duty polyamide castors are used on our biggest mobile gantry, they boast a double ball race without a central king pin; zinc plated pressed steel forks and smooth-running polyamide wheels which are resistant to extreme temperatures, saline water, detergents and acids, they are known for being unbreakable even under heavy loads.
All of this means that when we say our 5000kg portable gantry is mobile and manoeuvrable, we really mean it. It is also straightforward to assemble and can be dismantled again when necessary, which makes it simple to store and transport safely as required. For a gantry of this size, this is very impressive. A fixed lifting solution may be suitable for some businesses, but if you run a factory, workshop or manufacturing plant that needs to respond to changing processes, our mobile gantries will be a much better choice.
5000kg Portable Gantry Additional Features
We offer a few additional extras to enhance your 5000kg mobile gantry, these are:
1. Parking Jacks, to enable individual leg height adjustment to stabilise the gantry on un-even ground. They are adjusted by a top winder.
2. Festoon/catenary wires to hold electric cables safely out of the way.
3. Isolator switch or knockout box; To immediately switch off the power supply in emergency situations - ideal if used with electrical equipment
4. Beam attachment such as trolleys and beam clamps.
5. Lifting Equipment, including hoists, slings and loose tackle.
We appreciate that the needs of every customer we serve will be unique, which is why we provide so much flexibility when it comes to choosing how your mobile lifting gantry will be configured. With through testing to go along with our expert manufacturing process, you can be certain that any assembly will supply is tough, safe and adaptable.
Read more about mobile gantry cranes here.
A
sk About our Mobile Lifting Gantry Services
We not only manufacture portable gantry products for customers in-house, but also provide a range of other important solutions such as lifting equipment safety inspections. You can get a quote from Lifting Gear Direct by calling 01384 76961 or contacting us online with any question you might have. Our friendly staff will provide the information you need quickly and efficiently.
PLEASE CLICK ON THE INDIVIDUAL PRODUCTS BELOW FOR MORE INFORMATION ON EACH SIZE.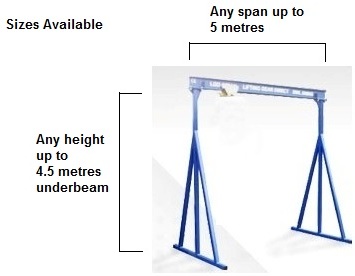 | | | |
| --- | --- | --- |
| SWL | Height Under Beam  | Span |
| 5000kg | 3500mm | 3000mm |
| 5000kg | 3500mm | 4000mm |
| 5000kg | 3500mm | 5000mm |
| 5000kg | 4500mm | 3000mm |
| 5000kg | 4500mm | 4000mm |
| 5000kg | 4500mm | 5000mm |
| 5000kg | 5000mm | 3000mm |
| 5000kg | 5000mm | 4000mm |
| 5000kg | 5000mm | 5000mm |