500kg Under Braced Swing Jib
Our
under braced jib cranes
with under bracing enable maximum height of lift. With a 500kg capacity, models in this range can make it safer and simpler to manoeuvre heavy loads. Under braced models are available across our
wall, column
and this floor mounted
jib product line-up
.
Call 01384 76961 for price.
500kg Under Braced Jib Crane Capabilities
As well as these under braced cranes we custom-build for our clients, we also offer over braced equivalents with floor, wall and column mounting options available. This lets you optimise the amount of lifting height that is available and move loads weighing up to half a tonne safely.
We can kit out your crane with an electric hoist from a respected brand, such as Donati or Demag. We can also augment it with a trolley, beam clamp, festoon system or any other useful add-on that you desire. At Lifting Gear Direct we are committed to giving our customers as much choice as possible, as well as to constructing reliable, crane & gantry systems we supply responsive hoisting equipment and many other types of lifting gear that is fit for any scenario.
Other Swing Jib Cranes
Check out our full range of swing jib models if you need an example with a higher or lower lifting capacity. We can also supply Demag and Donati cranes alongside our own LGD custom cranes. Our inspection and repair services are also available if you need support further down the line.
How to Contact Lifting Gear Direct
Dropping us a line could not be simpler, whether you have a question about our under braced floor mounted jibs range or want to get a quote for our other hoisting equipment services. Call 01384 76961 or contact us through our easy to use website to get in touch with our friendly team today.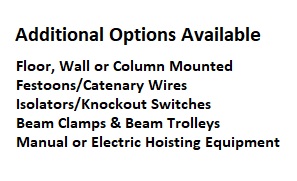 PLEASE CLICK ON THE PRODUCTS BELOW FOR MORE INFORMATION ON EACH SIZE.
| | | |
| --- | --- | --- |
| SWL | Height Under Beam | Arm Length |
| 500kg | 3000mm | 3000mm |
| 500kg | 3000mm | 3500mm |
| 500kg | 3000mm | 4000mm |
| 500kg | 4000mm | 3000mm |
| 500kg | 4000mm | 3500mm |
| 500kg | 4000mm | 4000mm |
| 500kg | 5000mm | 3000mm |
| 500kg | 5000mm | 3500mm |
| 500kg | 5000mm | 4000mm |
| 500kg | 5000mm | 5000mm |