Standard Aluminium Gantry Systems
Showing 1 to 3 of 3 (1 Pages)

Here at Lifting Gear Direct we are able to supply you with an excellent range of aluminium lifting gantries, this page is dedicated to the standard aluminium gantry systems; you can find information on our custom aluminium gantry systems here, these can be used for personnel fall arrest.
Standard Aluminium Gantry Systems
Need a portable lifting gantry which is light in weight, easy to assemble, can be disassembled easily for transportation and can be used outdoors in on-site situations? If so you have come to the right place.
This range of our standard aluminium gantry systems has four models for you to pick from. These have lifting capacities of 250kg, 500kg, 1000kg & 2000kg, providing a model for most common lifting operations where this type of lightweight equipment is required.

Convenience of an Aluminium Gantry Crane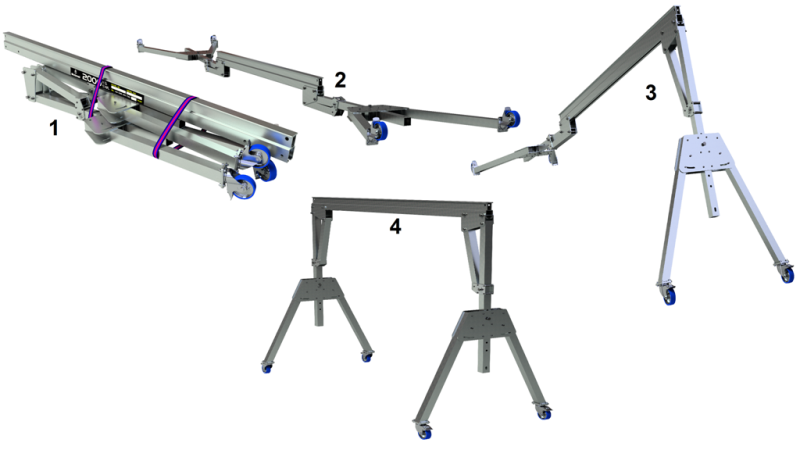 These compact mobile lifting gantries are broken down into 3 pieces and so are great for both frequent use in different locations or infrequent use and can be placed into storage.
Using a scissoring technique, (first one side then the other) one person can erect the smaller models though two people are recommended. Assembly takes just a few minutes using a locking pin system to secure the parts in place. Pins are also used to easily adjust the height of the gantry to better suit your lifting operation.
Portable aluminium gantry systems
Aluminium is the ideal material not only because of its light weight and strength, but also because it is a little more hard-wearing than steel equivalents, specifically in adverse operating environments. If you need a gantry crane that can remain in good condition without corroding or suffering other abnormalities when exposed to moisture, chemicals or any other airborne substances, our standard gantries are a good choice. This is not just a cost-saving advantage, but also has safety implications that it is worth considering, depending on the industry which your organisation occupies.
If you are in need of a bespoke gantry crane, then you should check out the
custom aluminium gantry systems
we sell on the Lifting Gear Direct site. These can be specified in any way you wish and offer load capacities of up to 5000kg, depending on the model you choose.
Even more convenient are our new
Rapide gantry
crane assemblies, which can be put together in just 60 seconds, making them eminently portable. They can make you as productive as possible if you need to stay on the move and still have access to a stable gantry with up to half a tonne of load capacity up its sleeve.
Aluminium Lifting Gantry Safety Features
After covering some of the benefits of the rest of our gantry range, it is time to get back to looking at what makes our standard units so special. Where safety is concerned, they are a great choice, since they are not only sturdy and stable, but come with features chosen specifically to make sure that they meet
safety standards for lifting procedures
. Employers should also take into account
PPE requirements
for any personnel fall arrest setups they want to create using our gantries.
Lockable castors come as standard in order to securely position the gantry where required. We can also provide optional, adjusting parking jacks which can be an added bonus on un-even surfaces, which is often the case when using outdoors. The jacks can be individually adjusted to suit the ground levels. We also offer an optional winch kit, which fits to the side frames and aids the adjustment of the gantry's height. These winches are great if frequent height adjustments are needed or if a single person is carrying out the procedure.
The overall height of these standard aluminium gantry systems varies between 2500 and 3500mm, you can see more details on each model by viewing their own pages below.
If you have a particular brand of lifting or hoisting equipment you want to find, then you can pick from a broad selection of the biggest names in the business on our site. Our standard aluminium gantry systems are just the starting point.
Need More Help?
If you have any questions or wish to make an enquiry, then please call us on 01384 76961 of use the
contact us page
or rapid enquiry form. We can give you addition product information, tell you more about the
inspection and servicing
packages we offer, give you a quote for a product or custom project, and generally fill you in on what
Lifting Gear Direct